A staycation is defined as a holiday that is spent in the country you live in, rather than abroad. With the rise of the staycation showing no signs of slowing down, we wanted to focus on the locations that make Britain so great – and why we're choosing to staycate, rather than vacate.
CEWE conducted some research to find out the top staycations in Britain and created travel guides for each one. We've included everything you need to know from the best places to eat, where to stay and what to do.
Whether a staycation to you means rounding up the family, organising a reunion with your friends or memorable weekend away with your other half, preserve your memories forever with a CEWE PHOTOBOOK.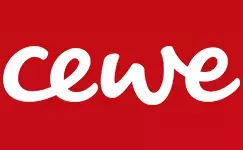 London
Whether you're exploring the rich historic architecture, palaces and gardens, or enjoying the diverse culture that thrives throughout, there's no doubt you'll enjoy discovering the famous city of London.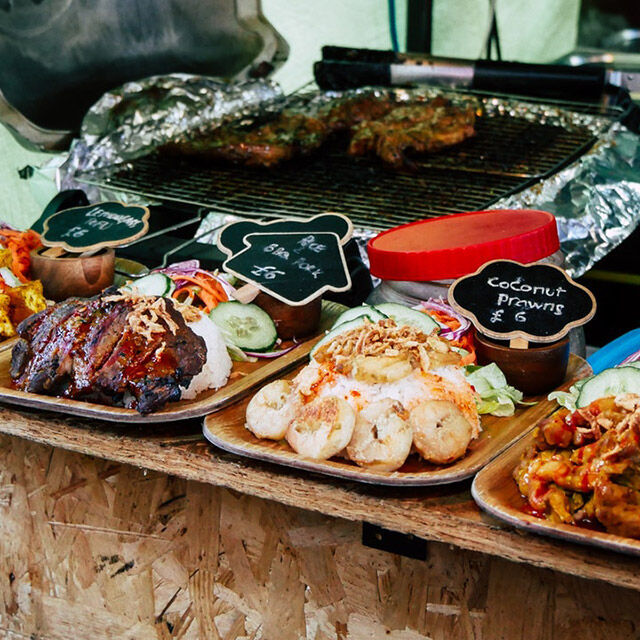 Places to Eat
When it comes to food, London offers a diverse mix of options. From the ultimate luxury of restaurants and cafes in Chelsea and Kensington, to the diverse and rich cultural eateries in Camden and Brixton, there's a flavoursome mix of food spots to explore and enjoy.
Those looking for the ultimate London experience should head down to London Bridge where the Vinegar Yard offers a food hall within an urban garden. Complete with Indian Inspired burgers and a range of tasty food stalls, it is just a stone's throw from Borough Market. This well-placed, up and coming hall is must visit for food lovers.
Based in Hackney, Wilton Way Cafe offers delicious and tasty food, whilst also playing home to London Fields Radio. The café is also known for its delicious coffee – Climpson & Sons to be precise.
For those looking for a more refined dining experience, Beck at Browns is a definite go-to. Teaming delicious Italian cuisine with the best ingredients Britain has to offer, the restaurant based in Mayfair is a real treat. Indulge in a full five course meal, with dressed crab and fine veal ranking among the best dishes on offer.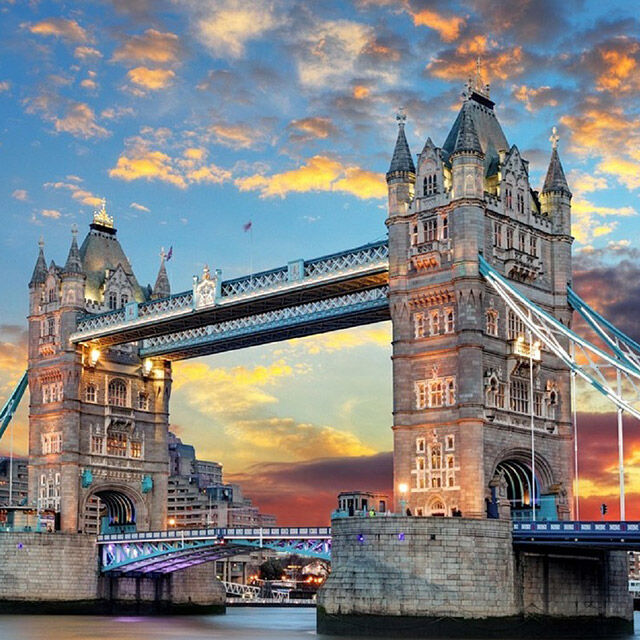 Things to Do
London is one of the most diverse cities in the world so choosing what to do when visiting isn't an easy feat. That said, with such a selection of different activities on offer, a visit can be tailored to include time to relax and enjoy cultural experiences alongside more traditional city break activities, such as museum visits and shopping on famous highstreets.
If you're wanting to kick back and relax during your stay, there's nothing better than heading to Kensington where you can explore Hyde Park on a Boris Bike, tour the palace or relax with a latte next to the Diana water fountain memorial.
Those looking to explore London's rich culture should head to the South Bank where the Tate Modern and Shakespeare's Globe Theatre sit proudly next to the Thames. Just over from the Millennium Bridge, you'll also discover St Paul's Cathedral. From where you can walk West to Covent Garden for a relaxing cup of tea, whilst being entertained by street musicians and artists.
For those seeking out vibrant and fast paced experiences, Camden Market is a must see. Explore the stalls and maze of wonders on offer, before heading to the West End to experience a performance to remember. From there you can head down to Soho, or go South to experience the iconic Westminster and Buckingham Palace.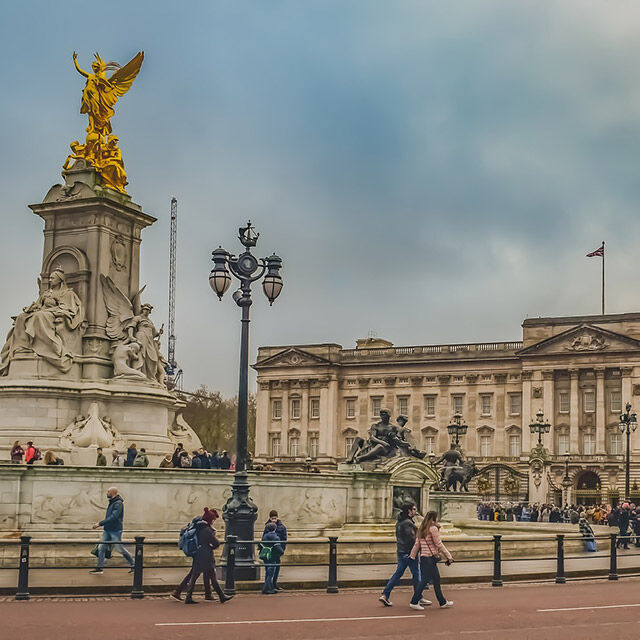 Where to Stay
The accommodation options are endless in London. From quirky Airbnb's to luxurious penthouses, the sky is truly your limit.
Those opting for something affordable yet unique should head to The Grand Royale. Located at Bayswater. Minutes away from Hyde Park, this hotel is ideal for those on the hunt for magnificence and grace, without the price tag.
If you're after a completely different experience, why not stay on a houseboat? Based in Paddington, The Boathouse is located on the Floating Pocket Park and offers boutique boat accommodation complete with deck space and complimentary bread and jam on arrival. What more could you want?
For the ultimate luxury, opt for The Connaught in Mayfair, where butlers are on hand to meet your every need. Bond Street underground station is just over five minutes' walk away, meaning the shops of Oxford Street are easy to get to with museums, galleries and theatres of Knightsbridge half an hour or so away on foot.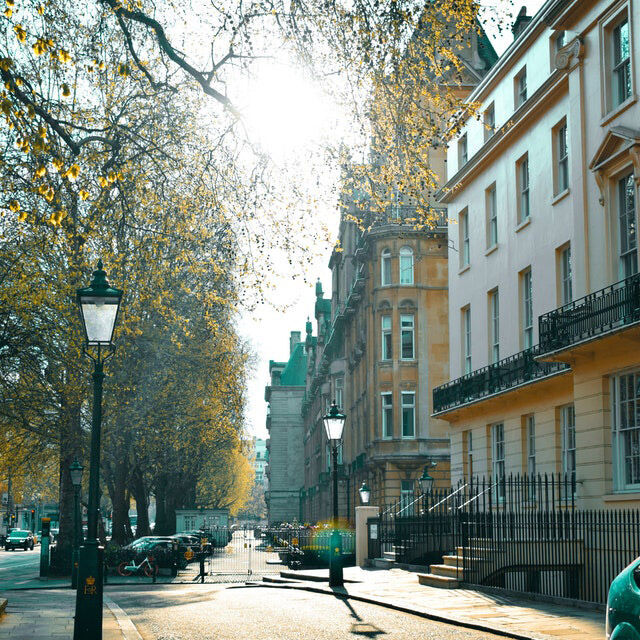 Photo Opportunities
It feels as if there is a photo opportunity around every corner in London, with iconic sites such as London Bridge, The London Eye, The Houses of Parliament and Buckingham Palace all proving popular.
If you're wanting to capture something a little different from the norm, head to Soho and Covent Garden after hours where you'll capture the essence of the city at night, with bright lights and big personalities in abundance.
For those wanting to capture a more natural view on the capital, we'd recommend roaming some of London's many parks. Regent's Park, Crystal Palace Park and Hyde Park all offer excellent photo opportunities, with Greenwich Park in particular boasting a rose garden, pavilion café and a wilderness deer park. This amazing location offers plenty of opportunities for those look to snap a range of different images.
Travel Information
London is easily accessible by train, which is the most efficient way to get into and out of the capital. Once you've arrived in the big smoke, travelling on the Underground is the easiest way to get around and can be made even more simple with an Oyster card.
If you do need to travel by car, be aware that parking is at a premium, travel is slow and busy and congestion charges do apply.
London also offers excellent transport via bus and can also be accessed by plane from across the UK.
The Top Photo Spots in London
Our Research Shows……that we love London!


Yorkshire
Famous for its windswept moors, rugged coastline, chocolate box villages and rich history, it's no wonder our research revealed that half of Brits would like to holiday at home in 'God's Own County'.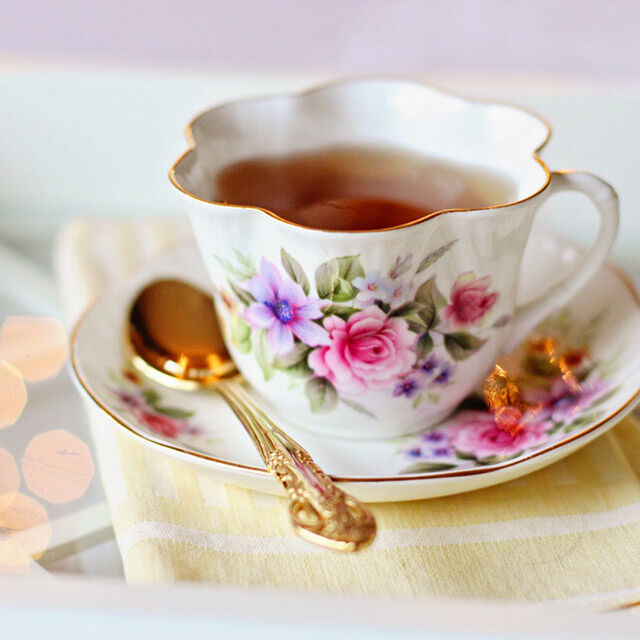 Places to Eat
If you're heading to the coast, a must visit is the iconic Magpie Cafe in gothic Whitby, where you can enjoy views of the harbor from one of the finest fish and chip restaurants the UK has to offer.
For those wanting to stay inland, the famous Betty's of Yorkshire is always a treat. Enjoy high tea and a visit to the elegant cafe in either York or the spa town of Harrogate.
Or if you're looking to enjoy a hearty meal and some traditional Yorkshire grub and Yorkshire pud, you'll be spoilt for choice with a visit to the Carpenters Arms in Felixkirk, just a few miles from Thirsk overlooking the beautiful Vale of Mowbray.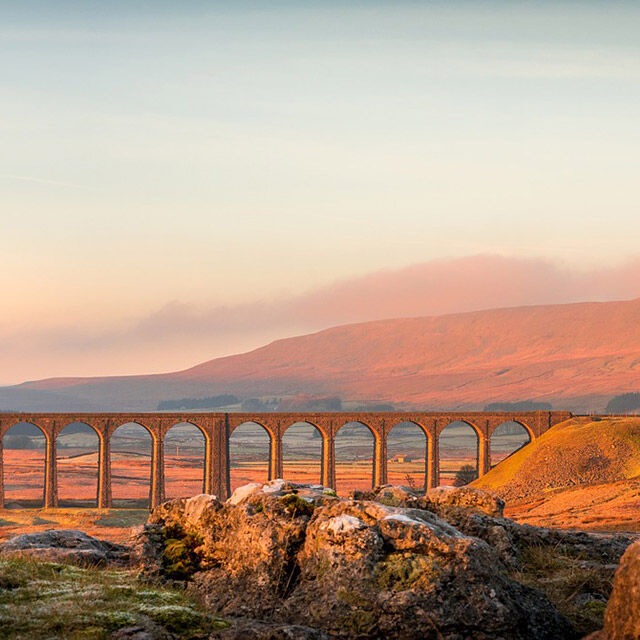 Things to Do
Whether you're a fan of shopping and coffee culture, or you prefer to get out and about amongst nature, Yorkshire has something to offer everyone. Take a trip on a steam train to the coast for breathtaking views of the moors, or head to the home of the Bronte sisters in Haworth in the Yorkshire Dales for a spot of lunch and a browse around boutique shops.
From hiking the Yorkshire Three Peaks, to unwinding in one of York's 365 pubs, Yorkshire is jam packed with adventure, culture and unique activities that are bound to make your stay up North one to remember.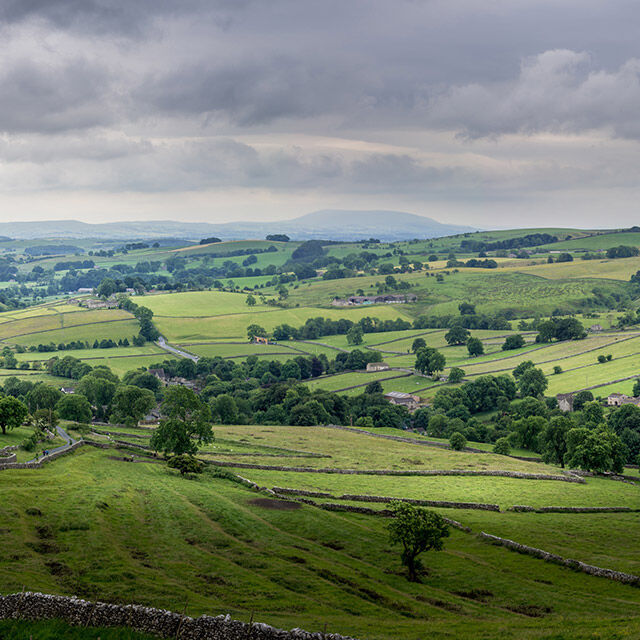 Where to Stay
There's plenty of accommodation options in York city that are sure to impress, from The Grand hotel, complete with spa and overlooking York's bar walls, to a more boutique experience such as a stay in the Judges Court Hotel, hidden away in its own courtyard just off of Coney Street – the city's main parade of high street shops.
If you want a more rural Yorkshire experience, there are thousands of boutique B&Bs and accommodation options. For a relaxing rural retreat hidden in the heart of Bronte country, try Ashmount Hotel, complete with boutique bedrooms and private terraces with hot tubs. For those wanting a place to stay closer to the coast, the vintage antique hotel La Rosa in Whitby offers a nostalgic and quirky experience, and often played home to Lewis Carroll on his many trips to Whitby.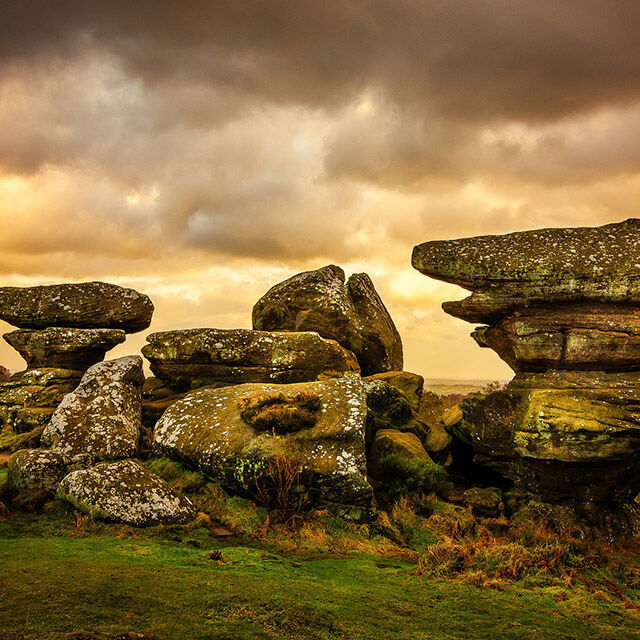 Photo Opportunities
Yorkshire offers endless opportunities to capture truly striking images. To the East of the county, the coast, steam railway and rolling moors offer fantastic opportunities to grab beautiful photos. To the West the Yorkshire Dales offer fields lined with dry stone walls, longstanding working villages and natural wonders such as Otley Chevin.
For the ultimate photos, we'd recommend a trip to York to photograph the incredible Minster, a visit to Knaresborough in the North to capture the viaduct and pretty rowing boats, a visit to Runswick Bay to shoot the cliff's bathed in sunlight, and a real must is a visit to Brimham Rocks, where you can capture out of this world shots of the strange natural rock formations that have occurred here after centuries of wind and rain erosion.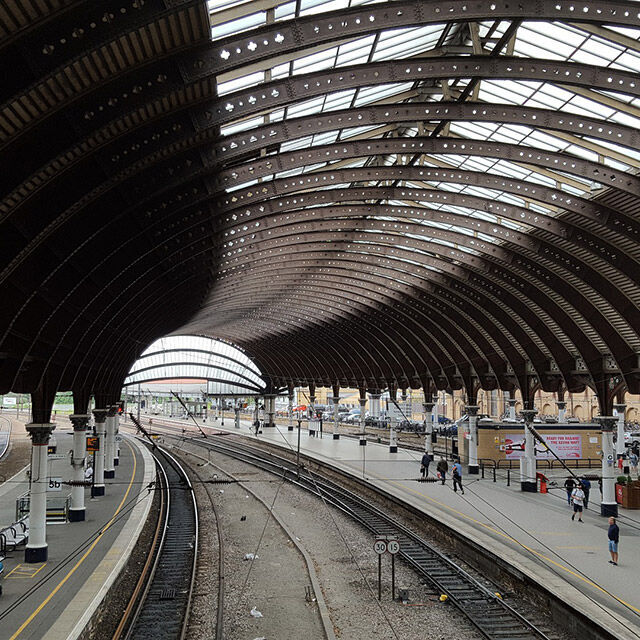 Travel Information
A visit to Yorkshire is easy by car or train. For those travelling by train from Scotland, the North, West or the South, York train station provides a central drop off point from where you can explore the whole of Yorkshire, be it the pretty market town of Northallerton in the North, iconic Scarborough to the East, the steel capital Sheffield to the South or the historic markets of Leeds to the west.
For those looking to explore the North and East of Yorkshire, driving is recommended. The county is easily accessed by the A1 or M1 from the North or South, and from the West can be reached via the M62. The A64 also runs across the county from Leeds to Scarborough, skirting past York in-between.
Enjoy a City Staycation in York
A city break in York has something to please everyone. Whether you're on a romantic getaway or have bundled the children into the car, York has a versatility that allows you to tailor your staycation to what suits you.
Northumberland
From its stunning coastline to its regent castles and rich history, Northumberland is home to some of the UK's best hidden gems.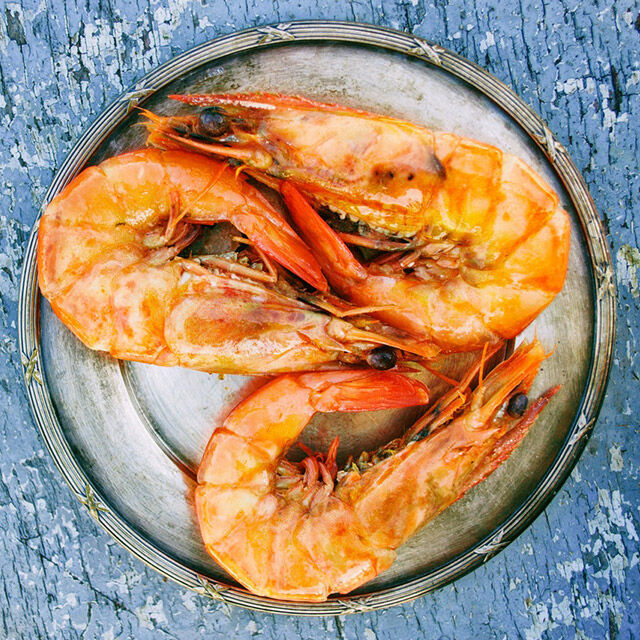 Places to Eat
If you're a fan of fresh seafood, Northumberland has an abundance of popular restaurants that is sure to impress food lovers. For a delicious feast, head to The Old Boathouse and enjoy some of the most amazing lobster dishes the UK has to offer.
Those looking for something a little more low key can enjoy The Earl Grey Teahouse at Howick Hall Gardens & Arboretum. Pair your cuppa with a slice of Earl Grey tea loaf for the ultimate tasty treat.
After something a little heartier? Then try the Northumberland Arms in Felton which is a picturesque spot inland from the coast.
Things to Do
From touring the grounds and mysterious interiors of Northumberland's many castles and estates such as Alnwick, to kicking back at the award winning Bamburgh beach after having your fill of local seafood, there's plenty to keep you busy in Northumberland.
Northumberland is also home to the world famous Hadrian's Wall – the story of which is said to have inspired Game of Thrones. The Northumbrian countryside offers a whole host of different opportunities for those that love the outdoors, from fishing and walking to cycling and wildlife watching.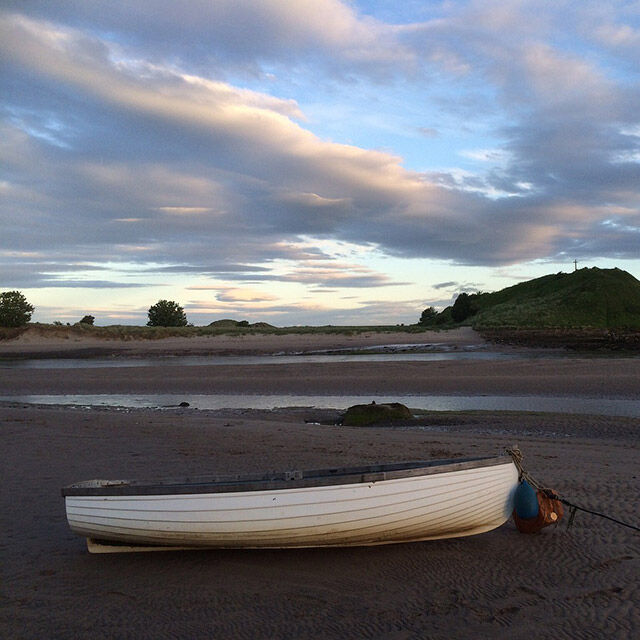 Where to Stay
You'll be spoilt for choice when it comes to finding accommodation in Northumberland. From sprawling, luxurious hotel to cheerful pubs, there really is something for everyone.
For a peaceful stay in the dainty town off Berwick-upon-Tweed, opt for the Elizabethan Town House, which offers visitors a stylish base whilst discovering North Northumberland and the Borders of Scotland.
Just a 20 minute drive from Alnwick Castle, Eshott Hall provides accommodation in a traditional country manor house, just a short distance from Morpeth.
For those looking to kick back and relax, Doxfrod Hall Hotel has a sumptuous spa and is based right on the stunning coastline. Plus, it's only 20 minutes away from Bamburgh Castle and the beach too!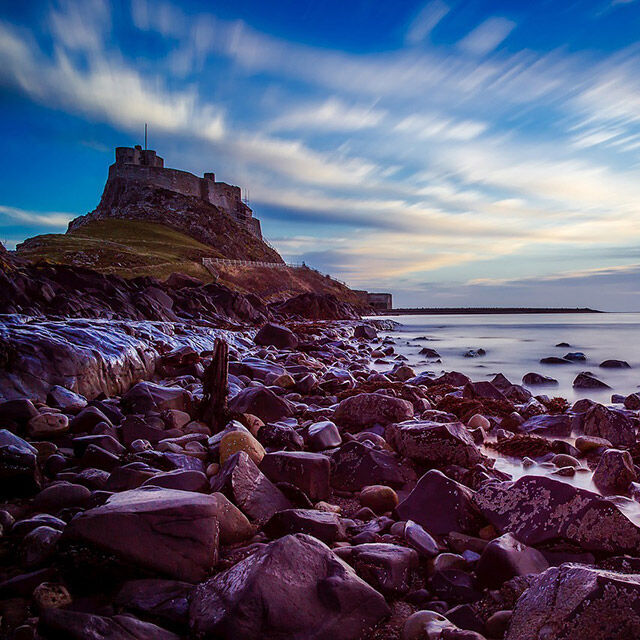 Photo Opportunities
Northumberland is well known for Lindisfarne (also known as Holy Island.) This spiritual and peaceful island offers a wealth of stunning photo opportunities for budding photographers looking to capture something unique and captivating.
Coastal towns and villages including Morpeth, Seahouses, Bamburgh and Alnmouth all offer excellent photo opportunities for those wanting to capture a nautical vibe.
Those set on photographing something a little less quaint and a bit more dramatic can head inland to the Northumberland National Park, where there are a whole host of photo opportunities, viewpoints and breathtaking valleys.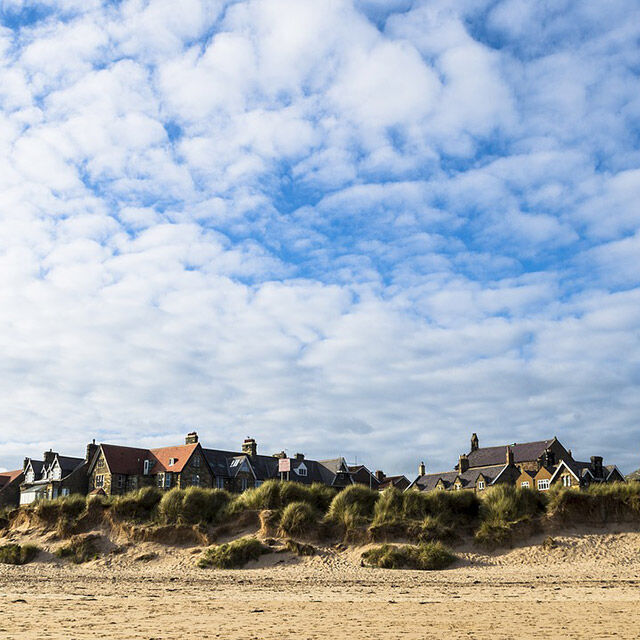 Travel Information
Northumberland lies next to Scotland and is England's most Northern county. Well connected by road and rail, Northumberland enjoys good transport links.
Those travelling by car from the North or South will reach Northumberland on the A1, while those travelling from the West can take the A69.
Just over three hours away from London Kings Cross, train stations on the East Coast mainline from London include: Newcastle, Morpeth, Alnmouth and Berwick. Connecting rail services also link with towns in Hexham, Haltwhistle, Corbridge and Prudhoe in the west of the county.
Inspired by Northumberland
Northumberland ranked as one of the most photogenic locations in the UK, with Bambrough Beach topping the chart as one of the top ten most photogenic places, whilst Lindisfarne ranked in the UK's top 20 landmarks.


Lancashire
Lancashire is home to a surprising variety of activities, landscapes, cuisine and architecture, making it a wonderful spot for a British staycation.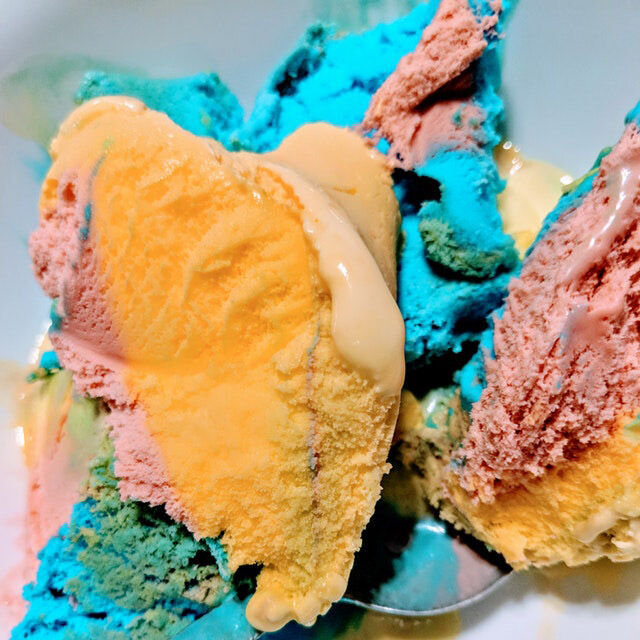 Places to Eat
Donned Britain's tastiest county, Lancashire offers food lovers a selection of locally grown produce and an abundance of restaurants. Boasting three Michelin-Starred restaurants and a whole host of tasty pub grub, beer is big in Lancashire and the county is awash with plenty of brewers and independent ales to sample.
For those looking to taste a slice of Lancashire, a visit to The White Swan at Fence is a must. Nestled in the Pendle countryside, there isn't a standard menu in sight at this Michelin Star restaurant. Diners can enjoy daily crafted, locally sourced dishes, alongside an excellent selection of Timothy Taylor cask ales.
If you're looking for a tasty afternoon treat, Lancashire is packed with small, boutique cafes and tearooms – not to mention some excellent ice cream parlors. Home to award-winning Italian-style luxury ice-cream, we'd recommend Frederick's, based in Chorley. Their ice-cream menu has been perfected over four generations and will not disappoint.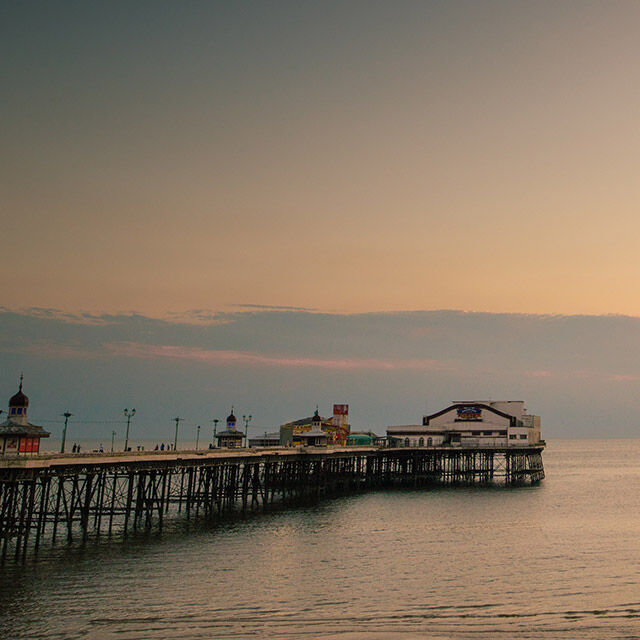 Things to Do
If you're holidaying in Lancashire, you can't miss a visit to the Ribble Valley. The official center of the Kingdom, the valley is rich with history and is also well known for its outstanding food, stunning natural beauty and heritage. A visit to Clitheroe Castle while in the area is a must due to its breathtaking views of the valley itself.
A visit to Lancashire wouldn't be complete without heading to Blackpool for the day. From eating crab sticks and rock on the beach, to touring the Blackpool Tower ballroom and climbing the iconic structure itself, there's plenty to keep you busy. Those that enjoy a ride on the wild side can head to the pleasure beach and those that prefer peace and quiet can stroll the promenade whilst enjoying some freshly prepared candy floss.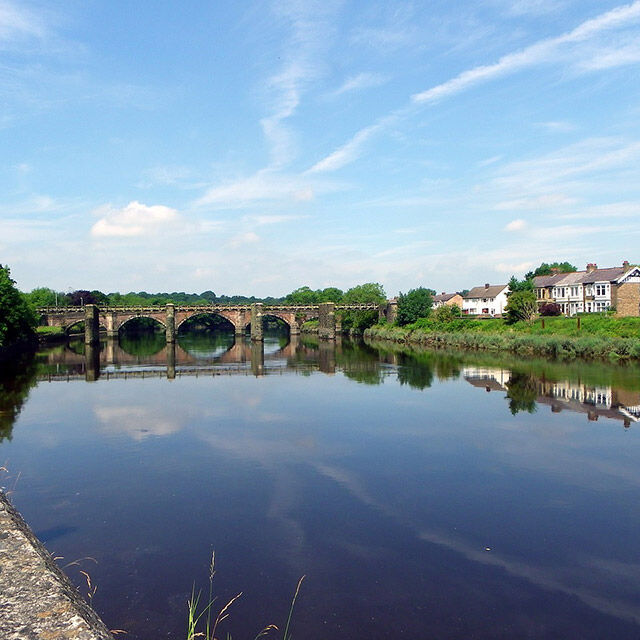 Where to Stay
Quirky, luxurious and interesting accommodation isn't hard to find in Lancashire. For a truly unique experience, enjoy a stay at the award winning Catford Inn's luxury studio cabins.
For a 5-star experience you'll never forget, head to Breck. Exclusive suites and unique stunning interiors teamed with a high-class personal service creates a truly luxurious stay.
If you prefer to be at one with nature, opt for a stay at Golden Ball Hotel where you can enjoy a glamping experience in elevated camping pods, offering stunning views over the River Lune.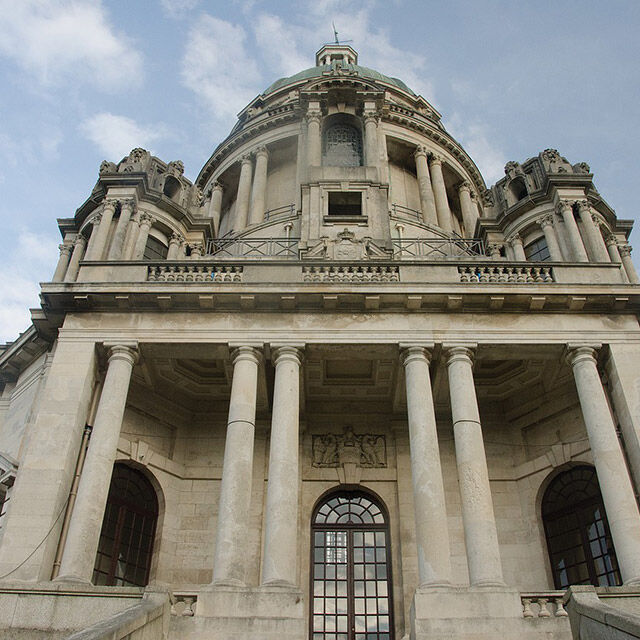 Photo Opportunities
Whether you enjoy shooting rolling countryside, urban landscapes or quirky architecture, Lancashire has something to offer. The iconic Blackpool Tower and pier are both obvious choices, but the county also offers a wealth of other great photography opportunities, from historic landmarks such as Ashton Memorial to tranquil shots of the River Lune.
St Wilfred's Church in Preston also boasts stunning pastel marble architecture, whilst the Empress Ballroom in Blackpool won't fail to impress with its gold guilt ceilings and decadent chandeliers.
Breathtaking views can also be found at Jubilee Tower, Longridge Fell and Williamson Park, whilst Lancaster Castle and Clitheroe Castle also offer stunning settings to grab a picturesque shot or two.
Travel Information
Lancashire is easy to reach from all over the UK and is well served by a main line rail – which is two hours from London.
Once in the county, the M6 motorway along with the M55, M61 and M58 enable fast and easy travel to all corners of Lancashire.
Local public transport is operated by a range of bus, train and tram providers across the North West and several destinations now offer bike hire on arrival.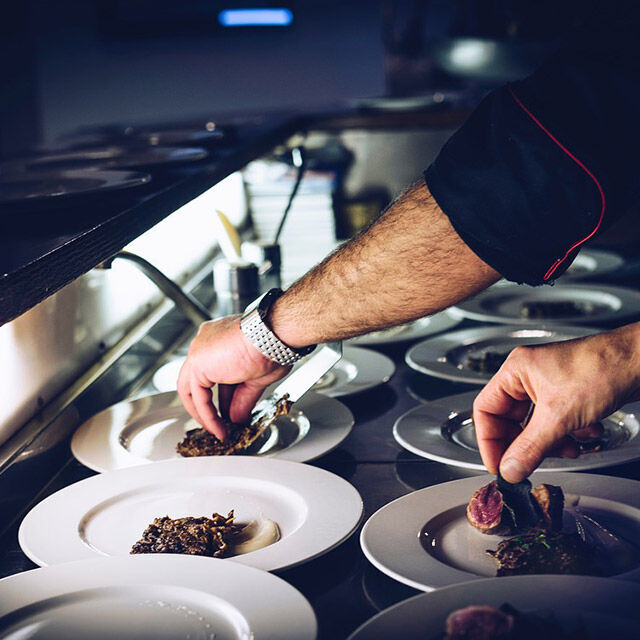 Places to Eat
Foodies are in for a treat in Norfolk, with an abundance of fresh and locally sourced ingredients available in eateries that range from quaint tearooms to local pubs.
The Gunton Arms is a renovated hunting lodge set in a historic park near Cromer. Chef Stuart Tattersall cooks up venison and beef from the local herd over a large open fire, while mussels and Cromer crab are caught by local fisherman.
When in a county with nearly 85 miles of coastline, sampling the region's fish is a must. Try Bure River Cottage restaurant in the picturesque village of Horning in the Norfolk Broads, for a menu of locally sourced fresh fish that changes daily depending on the fishermen's catch.
For a taste of fine dining, try The Neptune. Located in a former 18th century former coaching inn in Hunstanton and with a Michelin Star to its name, owner chef Kevin Mangeolles uses only the best seasonal produce the county has to offer. This includes locally sourced fish and Norfolk Pork and Game from local estates and farms.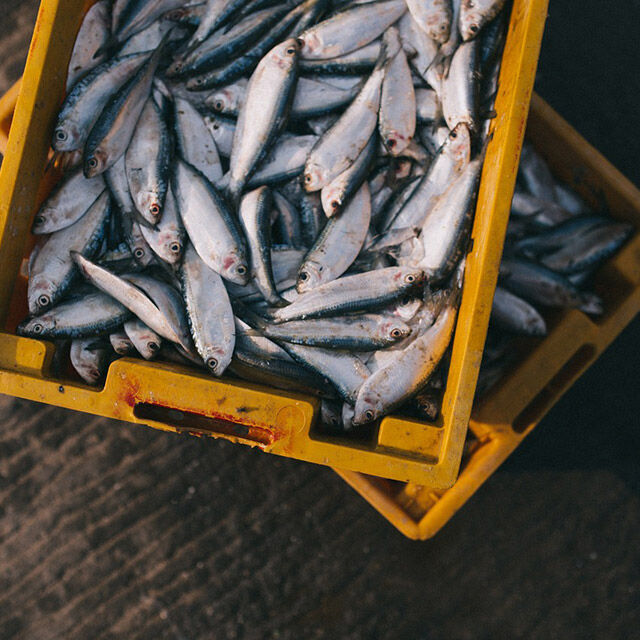 Things to Do
Norfolk is a nature lovers paradise, with an abundance of nature reserves and parks vying for your attention. At Blakeney Point, a nature reserve run by the National Trust, you can see Common and Grey seals in their natural habit – with over 2,700 pups born each year. Elsewhere, nature reserves and marshes provide the perfect habitat for birds, making the county one of the best places to birdwatch in the UK.
For those who fancy a bit of history and culture, the city of Norwich provides the perfect place to spend a day or two. Norwich is the most well-preserved medieval city in the country, with many cobbled streets and the city wall still intact, as well as a Norman castle, cathedral and 33 medieval churches to explore.
Back in the countryside, stately homes such as Holkham Hall and the Sandringham Estate offer plenty of rolling grounds and museums to discover.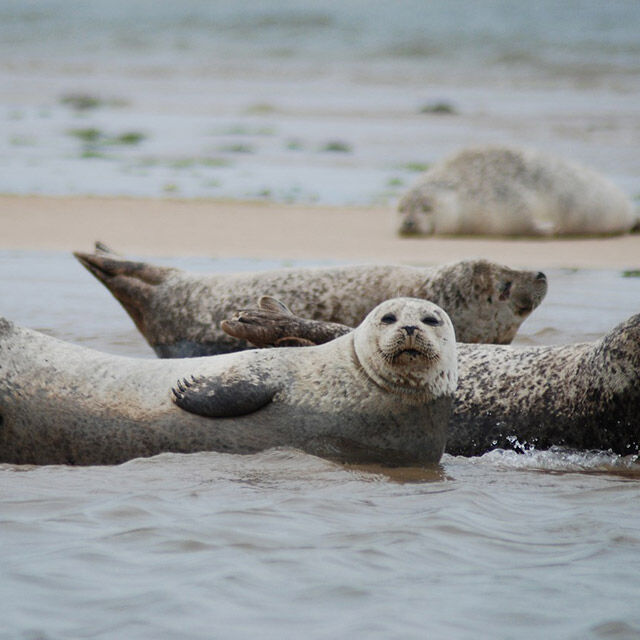 Where to Stay
For the perfect country retreat, try The Brisley Bell, a few miles from the small market town of Dereham and perfectly placed to explore the north coast and nearby Norwich. A country pub with six rooms in the converted barns next door, you can also enjoy their delicious food offering in their snug or garden room, which opens out onto a delightful patio and garden area.
If you fancy a stay by the sea, try No 52 'Sea Holly'. This B&B is located on the Holkham Estate and is a stone's throw from Holkham's Beach. Back in Norwich, The Assembly House, a Georgian luxury B&B, and The Maids Head Hotel, said to be Britain's oldest hotel, both provide the perfect city centre base to explore the city and further afield.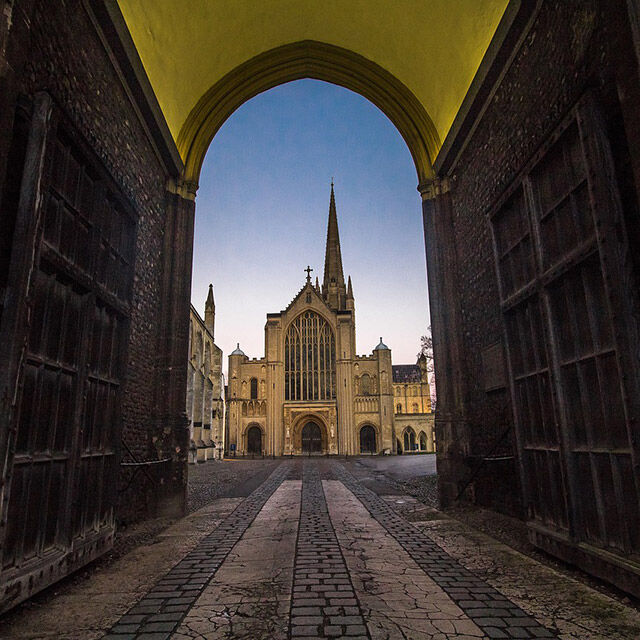 Photo Opportunities
Norfolk provides the perfect opportunity for budding photographers to capture some truly stunning shots. The 11th century Cathedral, with its Romanesque architecture, is ideal for taking interesting architectural shots, while its quaint cobbled streets and independent shops are a great place to capture some lively street photography.
Outside the city, Norfolk's beautiful countryside and coastline offer you a great opportunity to get stuck into some landscape and wildlife photography. The 125 miles of lock free waterways in the Norfolk Broads, lined with charming villages and picturesque towns, provide plenty of photo opportunities. Why not take a few snaps of the different coloured beach huts that line Wells next the Sea? Further east, the Salthouse Marshes are the perfect place for a leisurely stroll with your camera – you might even be lucky enough to capture a marsh harrier or barn owl on camera.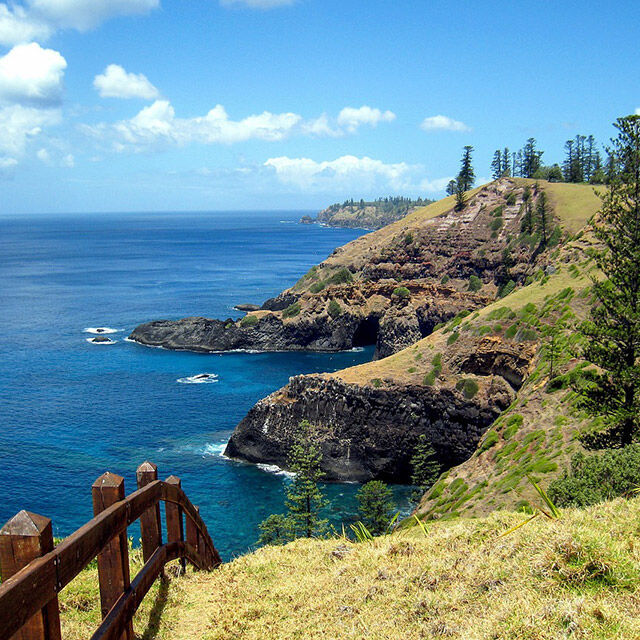 Travel Information
Visiting Norfolk is simple by either train or car and Norwich also has an airport less than five miles from the city centre for those coming from further afield. Trains to Norwich leave from London's Liverpool Street Station every 30 minutes and the journey takes just under two hours. Direct trains also run regularly from Cambridge with connections to the Midlands, North of England and Scotland.
For those looking to explore the wider county, driving is recommended. The major roads from the south east and London are the M11 and A11, with the journey taking around 3 hours from London. From the north, the A17 and A47 lead into Norfolk and the journey will take anywhere from between 3-6 hours.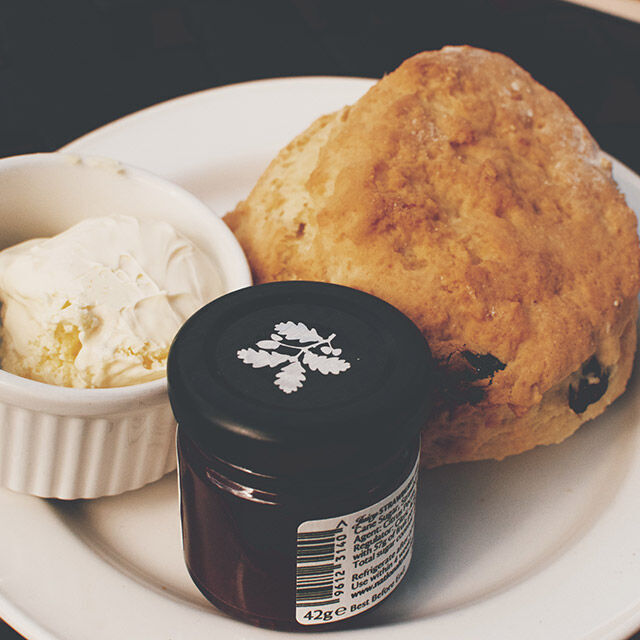 Places to Eat
Located in Newquay and overlooking Fistral Beach, The Fish House is acclaimed for its fresh fish that is sourced directly from Newquay harbour. With vegetarian and gluten free options, there's something on the menu that everyone can enjoy too. We'd recommend booking a table outside so that you can soak up the stunning view over the beach.
When in Cornwall, you are almost obliged to sample the local delicacy, Cornish Cream Tea. If scones are already on your staycation agenda, Miss V's Cornish Cream Tea is not to be missed. Situated just beside St Just Church in Roseland, it's the perfect spot to refresh once you've visited the church gardens or have explored St Mawes.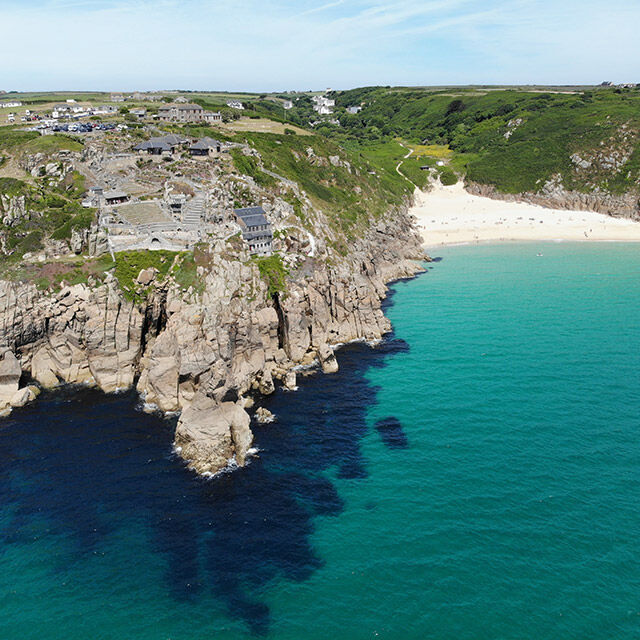 Things to Do
Cornwall was ranked highest as the county with the best beaches in the UK (58%) so it's only natural that you stop by and enjoy one. Whether you visit Sennen Cove beach, Godrevy Beach, Penhale Sands or Kynance Cove, you're sure to be greeted with some stunning views. Remember, Cornwall is home to 300 beaches, so you'll never run out of options.
If the weather is on your side – or even if it isn't – take a look at the Minack Theatre. This unique open-air theatre is perched on the cliffs high above the Atlantic Ocean and is worth a visit for the views alone. Make sure you check in advance if there are any events or performances taking place when you visit.
Looking to adventure on dry land? Head on over to the Eden Project (the world's largest greenhouses!) Tintagel Castle or The Lost Gardens of Heligan.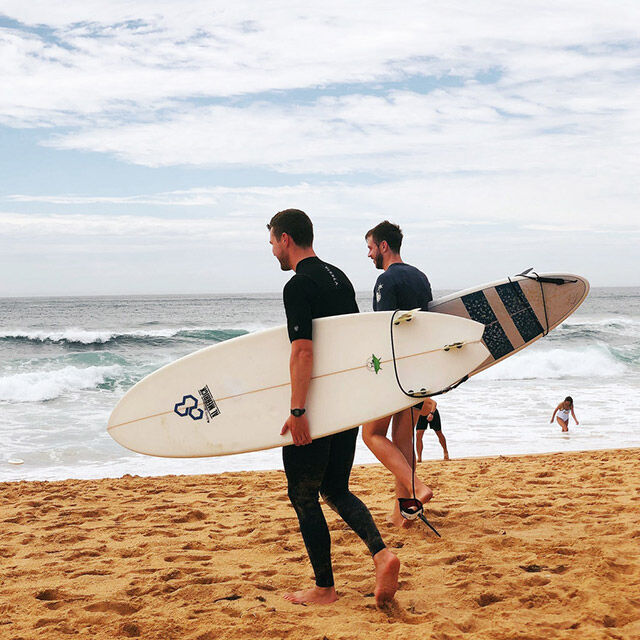 Where to Stay
Newquay is the place to be if you enjoy a lively atmosphere with lots of activity, whether that's the bustle of keen surfers or the energetic night life. Porth Beach Hotel offers incredible views of Porth Bay where you can admire the golden sands and dramatic, rugged coastline.
If you enjoy quirky, one of a kind accommodation, The Bunker in Sennen is a former WW2 operations bunker close to Porthcurno Beach. Gather your family and friends and enjoy creating new memories in a location brimming with history.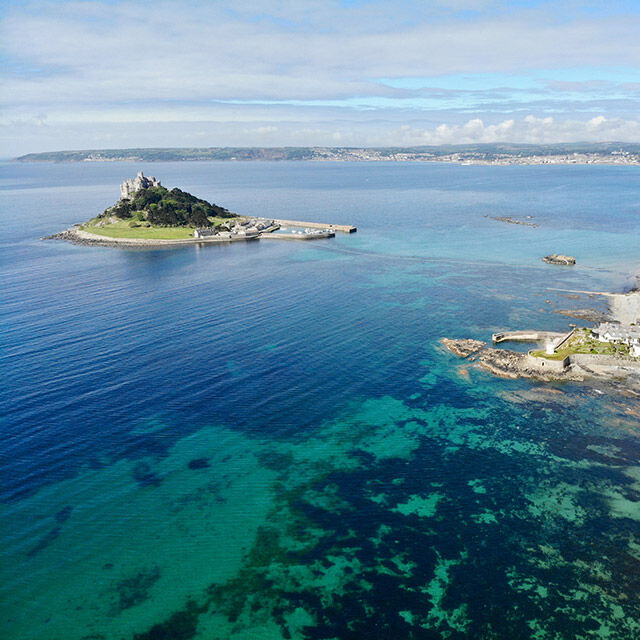 Photo Opportunities
St Michael's Mount topped the chart as the most photogenic place in the UK and one of the country's best landmarks. If you're looking to capture this iconic view at its best, remember to consider the time of day you visit- early morning and late evening light allows you to capture either blue hour or golden hour photography.
It's impossible to talk about Cornwall without mentioning Land's End. Home to some of the most dramatic cliffs in England, take your camera to Enys Dodnan or Armed Knight and Longships Lighthouse viewpoints to capture some stunning shots.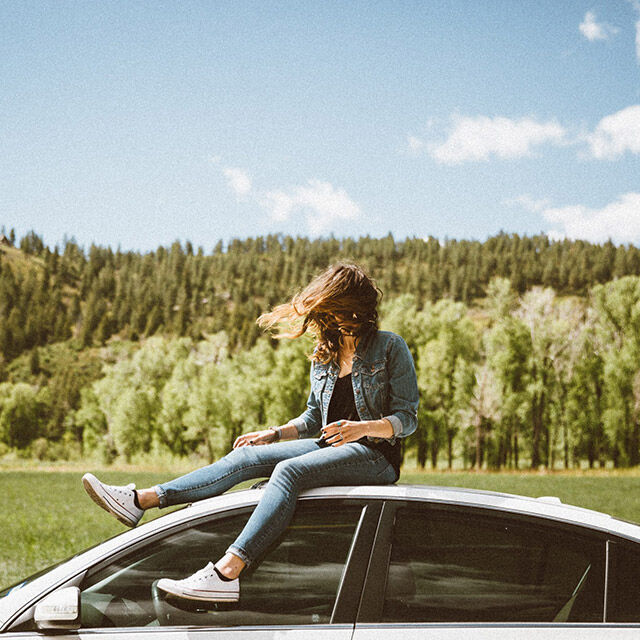 Travel Information
Cornwall is a county in South West England, bordered to the north and west by the Celtic Sea to the south by the English Channel, and to the east by Devon.
Cornwall is probably best explored by car as it allows you the flexibility to explore once you arrive and you can get there via the M5 and A30. If driving isn't an option, you can take the train or fly from Stansted or Gatwick to Newquay then hire a car to reach your destination. Always be wary of peak times when travelling, especially over the summer holidays and weekends!
Places to Eat
The Greedy Goose is set in Prysten House which is Plymouth's oldest building and is a delightful spot to indulge in some tasty food in an idyllic setting. Whether you want to enjoy lunch in the courtyard or cosy up on a romantic date night, you'll find something here to whet your appetite.
Pizza, ice cream and impressive views? Overlooking the stunning Otter Valley & Blackdown Hills, Otter Valley Ice Cream & Field Kitchen offers all three (and rumour has it that the cream tea is also as fantastic!) Ideal for everyone from families to couples, take a seat and admire your surroundings while tucking into mouth-watering, gelato style ice cream.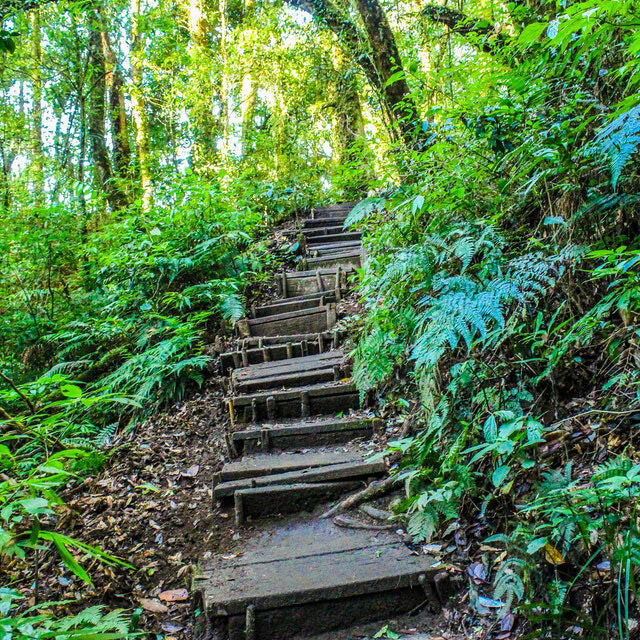 Things to Do
Devon is full of places to explore, so make sure you pack comfortable shoes! The Milky Way Adventure Park is an all singing, all dancing attraction that is made for families – whatever the weather. Full of rides, events and things to do, it's almost guaranteed to wear your little one(s) out.
After something less energetic and more aesthetic? A wander around the National Trust Coleton Fishacre House & Gardens allows you to imagine life as a 1920's resident – with a wide range of stunning foliage, flowers and magnificent view of the coast.
The Exeter Cathedral is described as one of the great cathedrals of England and an outstanding example of Gothic architecture. The cathedral offers breath-taking Roof Tours, a stunning choir and even has its very own Cathedral Café.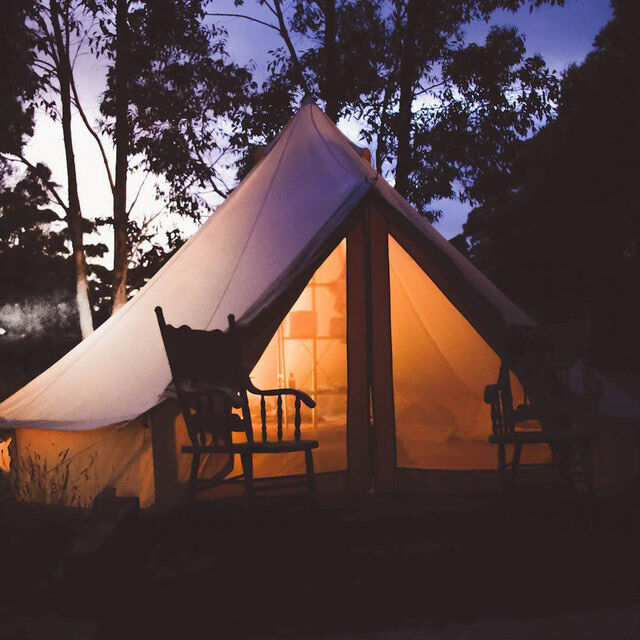 Where to Stay
From glamping and camping to luxurious hotels and holiday parks, your accommodation can suit whatever adventure you're embarking on. For luxury and a taste of history, Dartington Hall is situated in a Grade I listed heritage property and is the largest medieval manor house in the West of England.
As another option, Pentilllie Castle has 9 luxurious en-suite bathrooms and offers a tasty Cornish breakfast and views to Devon's luscious hills. Coastal Cabins are situated in the sweet spot between the North Devon Coast and Hartland Village for picture perfect, family friendly camping. Wherever you are, you're going to make some precious memories in a picturesque setting.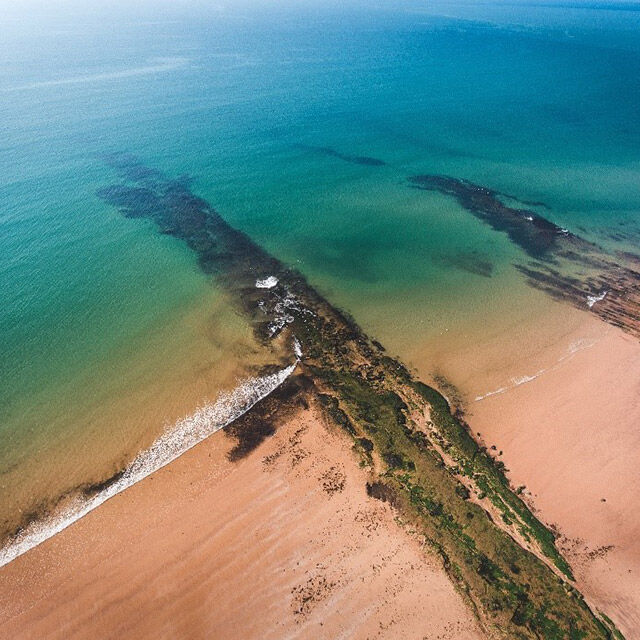 Photo Opportunities
Devon also ranked as one of the most photogenic locations in the UK, with Torquay topping the chart as one of the top ten most photogenic places in the UK.
Valley of Rocks is a spectacular scenic spot so make sure you're armed with your camera when paying a visit. Situated between the gorges of the East and West Lyn rivers and surrounded by gigantic cliffs, the views are more than just a breath of fresh air. It's also dog friendly too!
When capturing the best of Devon, we need to mention that it is home to two enchanting moors, Exmoor and Dartmoor. Although they have different characteristics, they're both equally as beautiful. If that isn't enough to fill your memory card, venture over to Jurassic Coast, Clovelly or Brixham to feel as though you've just stepped off a plane!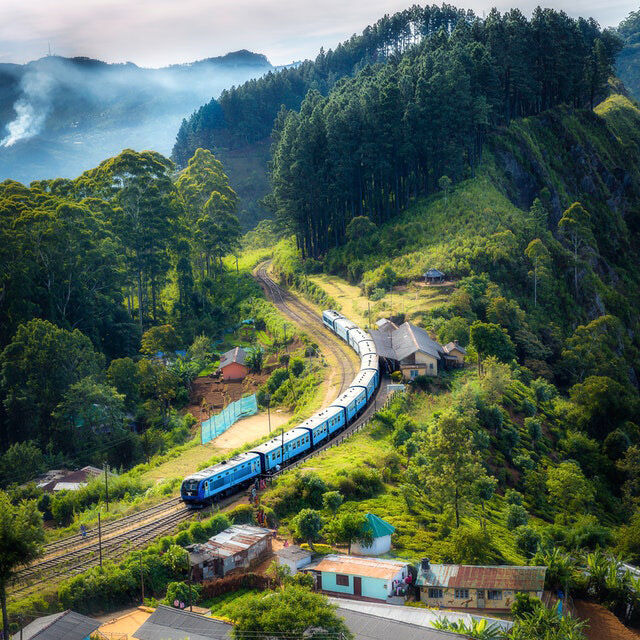 Travel Information
Although you can be forgiven for mistaking Devon for somewhere more exotic, it's very accessible to travel to from the rest of Britain. Devon has many train lines, accompanied by a picturesque route, so sit back, relax and enjoy the journey. Travelling by road is also a very reasonable option as the M5 runs into Exeter. Put simply, plan your route beforehand and you're sure to find an option that suits you – whether that's by car, coach, train or even plane!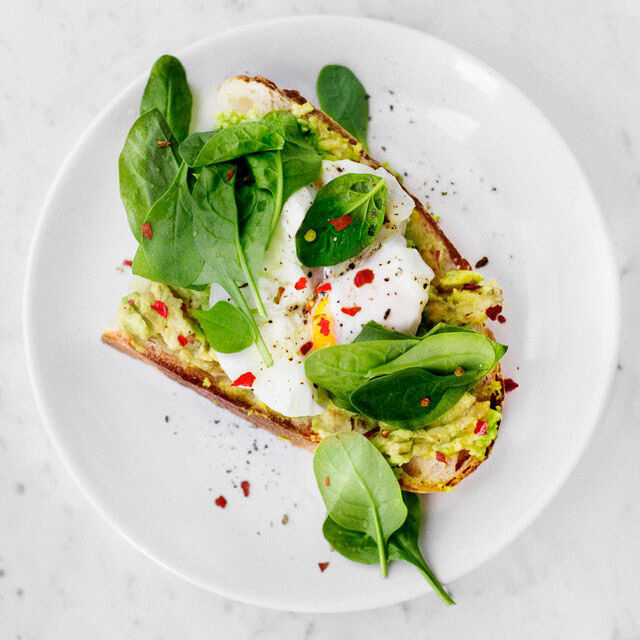 Places to Eat
Dorset is known for its vast range of traditional seaside food, although it offers a lot more than that. From food festivals to trendy cafes and fresh fish restaurants, you may need to unbuckle the belt a little bit when you see what it has to offer.
The Paddle is a husband and wife owned café in Christchurch that serves 'really tasty food made from scratch, with love.' From toasted sourdough open sandwiches and smashed avocado on toast to woodfired meatballs and American style pancakes, you'll need to set some time aside to make your decision!
Situated meters away from Bournemouth beach, WestBeach has appeared in the Waitrose Good Food Guide in 2016 and 2019, so you the food is top quality. Serving exquisite, fresh seafood in an equally as beautiful setting, you'll feel fully emerged in the British seaside.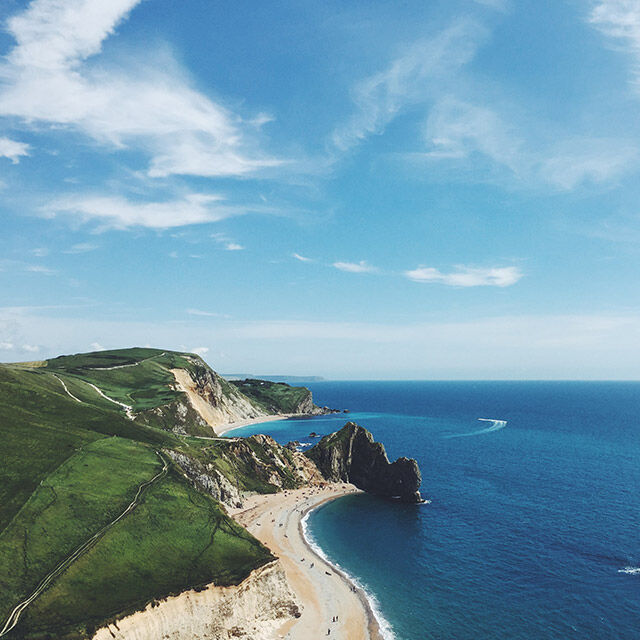 Things to Do
You will never be bored in Dorset – and that's a fact. Dorset is busting with festivals – from Dorset knob throwing and nettle eating to slightly more typical festivals such as arts, film, literary, food, drink, music and flowers. If you're in Bournemouth, then Bournemouth Pier is a must-visit attraction with seaside stalls, fish and chips, ice cream and miles of sand to sink your toes into.
Want to explore past the beautiful beaches and delve into some history? Shelley Theatre was built for Mary Shelley and continues to commemorate her through the art of theatre. The outdoor cinema at Lulworth Castle is an incredible way to spend an evening too, combining a historic building with iconic films – while enjoying a warm summers night! For some light-hearted, tasty touring (without the walking!) Freida's TeaBus is perfect for enjoying the sites of Bournemouth while eating scrumptious cakes and pastries.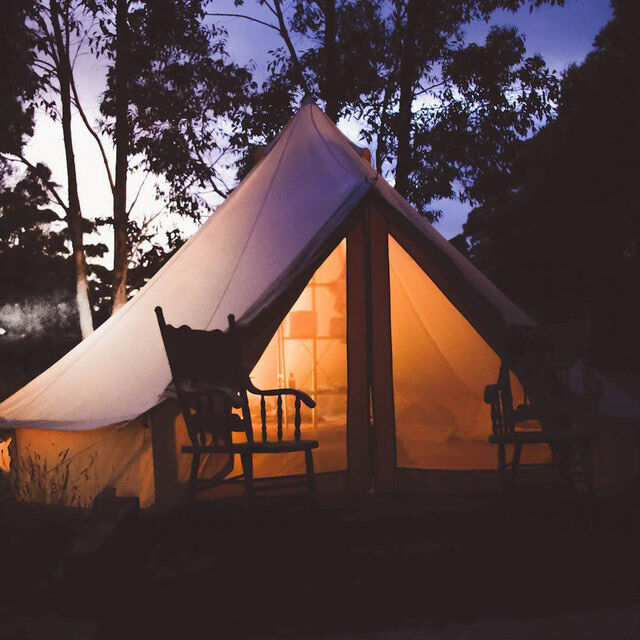 Where to Stay
If you want to make the most of the outdoors but aren't keen on camping, glamping is a great way to enjoy what Dorset has to offer. From Crafty Camping in Holditch to Tunnel Pods in Dorset, there's no need to avoid the outdoors for fear of a bad sleep!
Do you have adventurous little ones in tow but don't want to compromise on luxury? The Chesil Vista five-star holiday park is just what you're looking for. Say hello to gold standard holiday accommodation and amazing park facilities right next to Jurassic Coast.
If you fancy some quirky accommodation (and are travelling with someone you really get along with!) how about hiring a VW Camper? Enjoy cruising in a vintage, yet modernised, campervan! The freedom is yours for the taking.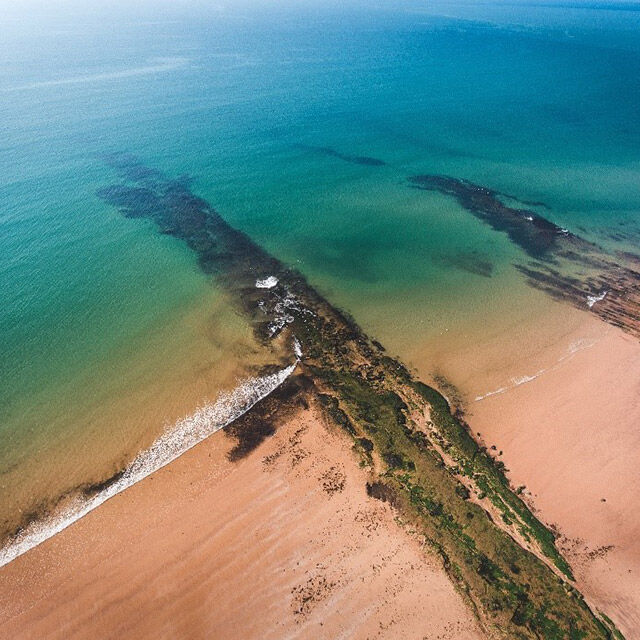 Photo Opportunities
If you haven't already guessed by now, Dorest has a lot for you to photograph! Dorset was ranked amongst the highest counties with the best beaches in the UK (24%) so make sure you do your research and visit beaches such as Lulworth Cove, Hengistbury Head Beach, Mudeford or West Bay. Durdle Door is also a well-known spot that you can capture on camera while absorbing the amazing views.
If you've had your fill of beautiful beaches, take some time to visit the Portland Bill Lighthouse or the Romano-British House – described by English Heritage as the "only Roman town house visible in Britain."
Dorset also ranked as home to one of the best landmarks in the UK, with the Jurassic Coast being voted within the top 10 places to visit. The Jurassic Coast is the only natural World Heritage Site in England, so words won't really describe it. Its best to go and see it for yourself!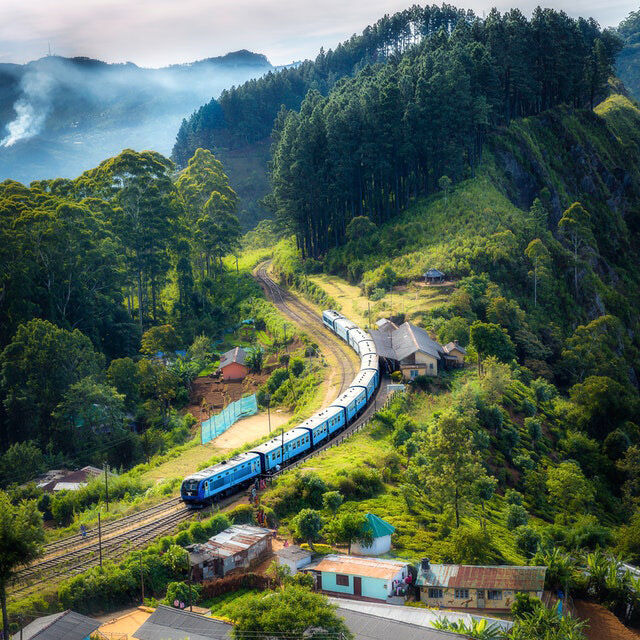 Travel Information
The South West was voted the best overall region to take a staycation in (57%) but how do you get there?
Dorset may look like a world away but it's easier to travel to than you may think. For example, it has an impressive rail network and, as it has 23 train stations, you are never too far away from one. You also have the option of Dorset's longest established coach operator, North Dorset Travel.
If you're travelling from the west, the M5 joins the A37 at Yeovil or the A35 at Honiton. If you're from the midlands or the north, use the M40 to the A34, which leads to the M3, M27 and then A31. From the east, The M3/A303 passes through the most northern part of Dorset. However you get there, make sure you enjoy the views!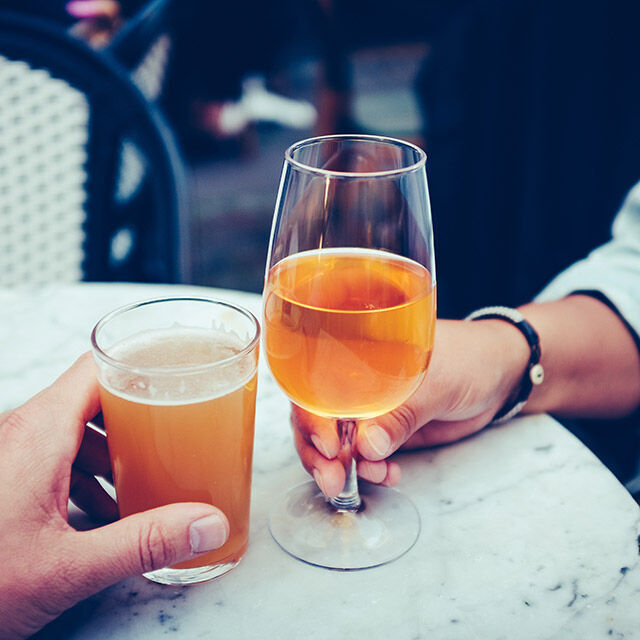 Places to Eat
Somerset is the county of Cider and with good reason! As it is home to 400 different varieties of cider apples that are grown in the area, it goes without saying that you will always be close to some fresh, local cider. Naturally, Somerset will have a vast range of local produce, homemade food and independent shops so don't be afraid to get stuck in and taste what is on offer.
In the heart of Frome, Rye Bakery is a cafe and bakery with a play space for children and a spacious garden. Focusing their menu around seasonal produce, you can enjoy fresh, wholesome food that has been created with love and care. If you've taken the whole family along with you, there is a sensory area for little ones to explore and a willow dome for relaxation.
If you're after something a bit more grown up, Pillars Bar and Grill is set over 2 floors and has a secluded alfresco terrace where you can enjoy the beauty of the outdoors. The ground floor bar offers an extensive range of drinks and there is a menu to suit everyone – from steaks and burgers to salads and Sunday brunch.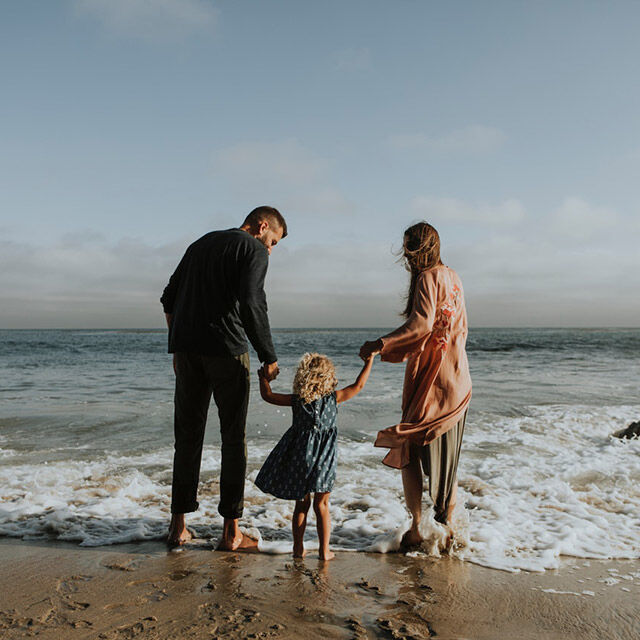 Things to Do
Somerset ranked in the UK's top 10 counties with the best beaches in the UK (13%). Pack your bucket and spade and head over to Brean Beach, Kilve Beach, Minehead or Glenthrone beach. Weston-super-Mare is your typical Victorian seaside location where you can emerge yourself in everything quintessentially British. We're talking fish and chips, donkey rides and lots of amusements.
Bath and Wells were also voted in the top 20 cities in the UK so they're worth exploring on your staycation. When in Bath, you need to visit the famous Roman Baths or relax in the Thermae Bath Spa. Enjoy the blissful, warm water in their rooftop thermal bath while gazing across the scenic view. If you're planning on hanging around a bit longer, the Bath Abbey Tower Tour allows you to have a sneak peek at this iconic landmark and enjoy a breath-taking view over Bath.
If you're stopping by Wells for a long weekend, explore The Bishop's Palace and Gardens, Vicar's Close and St Cuthbert's Parish Church for an up close and personal tour of the history behind the city. Make sure you have a good night's sleep and have plenty of storage on your camera!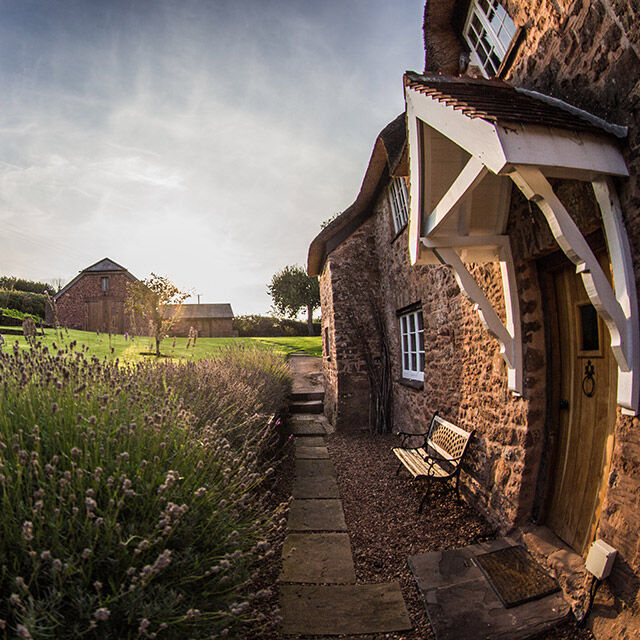 Where to Stay
The Old Mill Treehouse in Bath and Fordscroft Cottages in Crewkerne are perfect for those looking to indulge in a romantic staycation. For a more family friendly location, we'd recommend The Treehouse & The Apple Treehouse or Middlewick Holiday Cottages, where they can really enjoy the Somerset sunshine.
Somerset also has its fair share of quirky accommodation such as Mendip Molly, Godney Arts House or Yarlington Yurt which will look as fun on camera as they are in real life. Gather your friends, family or your other half and find something that suits you. The only thing left to do is explore!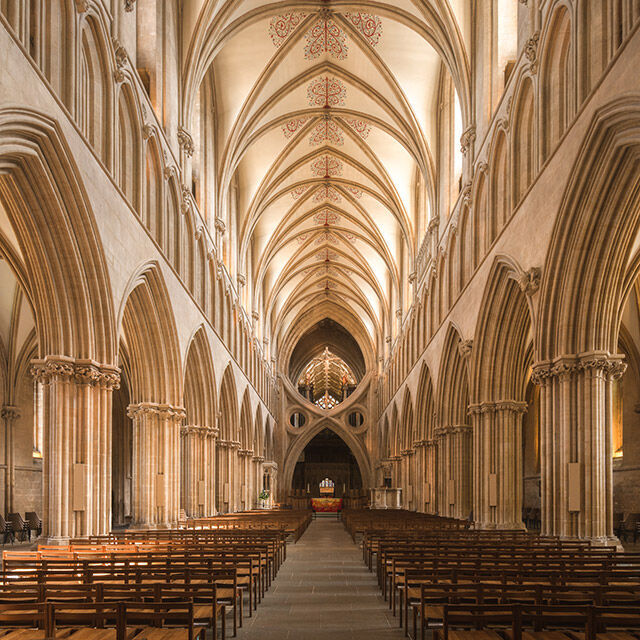 Photo Opportunities
Somerset also ranked as one of the most photogenic locations in the UK, with Cheddar Gorge topping the chart as one of the top ten most photogenic places in the UK, whilst Bath's Roman Bath's ranked in the UK's top 20 landmarks. Cheddar Gorge caves provided shelter for man more than 40,000 years ago and the caves are still explored to this day. A ticket will give you access to Gough's Cave and Cox's Cave, Museum of Prehistory, Jacob's Ladder, Beyond the View and the Cliff-top Walk – so you need to set a day aside to capture everything on camera.
Set in England's smallest city, Wells Cathedral is the first Gothic-style cathedral to be built in the UK with the oldest parts of the Cathedral dating back to 1175. The impressive arches that decorate the cathedrals ceiling are 700 years old and were built to prevent the cathedral's tower from collapsing. There are lots of photo opportunities too – from the stained-glass windows, spiral staircase and the Wells Cathedral clock.
In a nutshell, there are lots of photography hot spots, including – Dunster Castle, Glastonbury Tor, Clevedon Pier and the bright colourful houses of Totterdown. If you're going to spend a few days in Bath, we'd recommend a Bath Photo Tour too.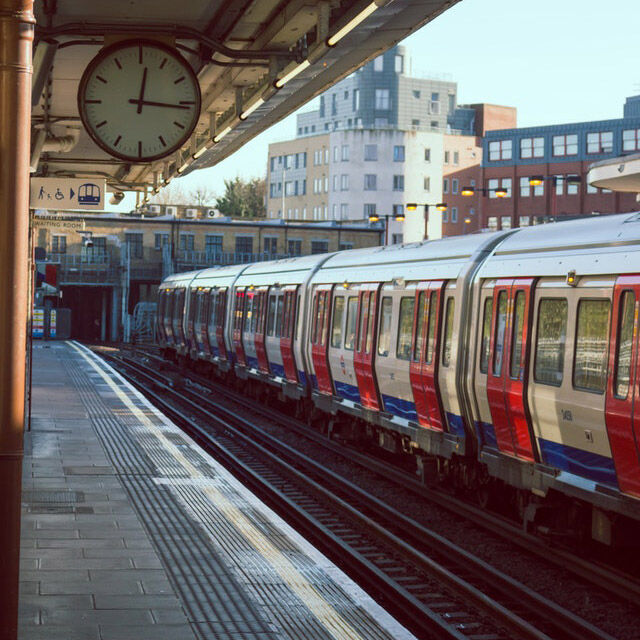 Travel Information
Somerset is extremely well connected with Bristol and Exeter airports, the M5 and the A303 via Stonehenge. There are also 10 train stations spread throughout the county which makes commuting by train very easy. If you do make the journey by road (whether that is train, coach or bus) you'll have the added benefit of beautiful views too – the choice is up to you.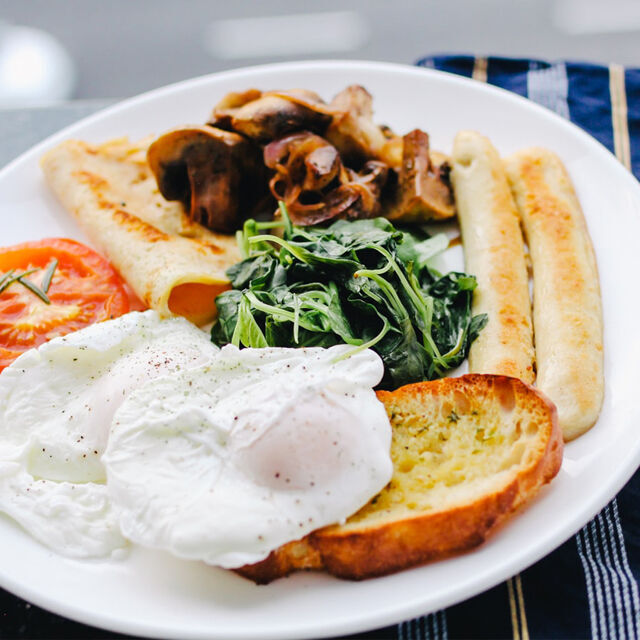 Places to Eat
Edinburgh is a hub of aesthetic, trendy bars and restaurants and you'll probably want to visit them all. As there is somewhere to indulge your taste buds on every corner, it's almost impossible to narrow down.
Exploring a new city is hungry work – which calls for brunch! Pop by Milk, Roseleaf Bar Café or Mimi's Cafe to recharge your batteries and rest your feet.
Rabble Taphouse and Grill is a boutique hotel, restaurant and bar located in the heart of Edinburgh. Perfect for those romantic date nights or staycations that are celebrating a special occasion, it also has an Instagram worthy backdrop with shelves filled with amazing plants and succulents.
If your staycation is more family focused, there's City Restaurant which combines relaxed dining with fresh food. From steak, pizza, fish and burgers, even the fussiest little ones will find something to enjoy – and you can treat yourself to an 'adult drink.'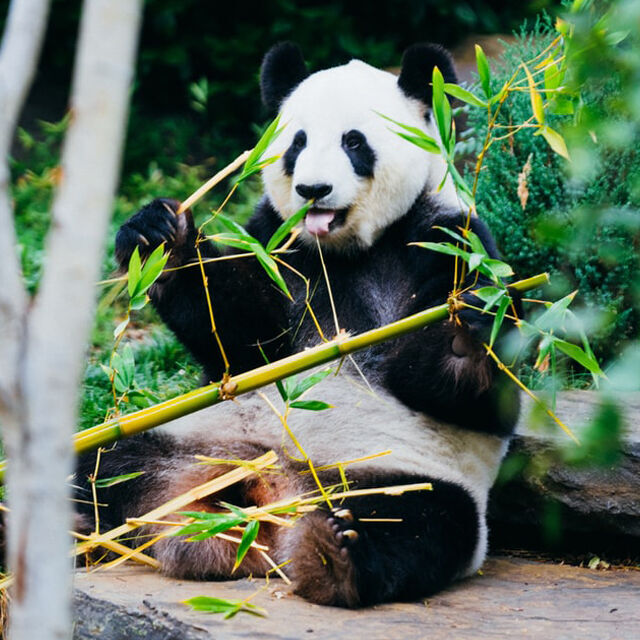 Things to Do
If you love exploring and delving into a time gone by, take some time out to visit the National Museum of Scotland or St Giles' Cathedral. The Royal Botanic Garden is great for families and allows younger children to appreciate what nature has to offer. Edinburgh Zoo and the Scottish National Gallery are also family staycation hits!
If a staycation to you is all about relaxing and enjoying hitting the shops – then you're in luck. Edinburgh is home to the famous Princes Street which is the main shopping street in the city. If avoiding the hustle of the high street and trying new experiences is more of your interest, there's The Scotch Whisky Experience, Camera Obscura & World of Illusions and the Museum of Childhood to get stuck into too.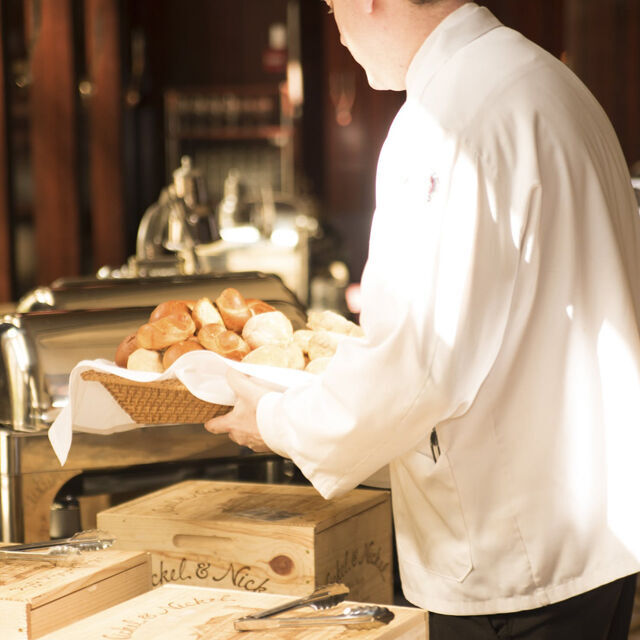 Where to Stay
As Edinburgh is such a popular city, there are chain hotel options by the bucketload. For a budget friendly staycation, or something a little more last minute, don't be afraid to investigate popular hotel chains. For example, Staycity Aparthotels West End. Airbnb is also a great route to look down if you are exploring Edinburgh with a larger party.
If your enjoying a staycation with your other half, there are plenty of romantic options such as Old Town Chambers, The Scotsman Hotel or Kimpton Charlotte Square.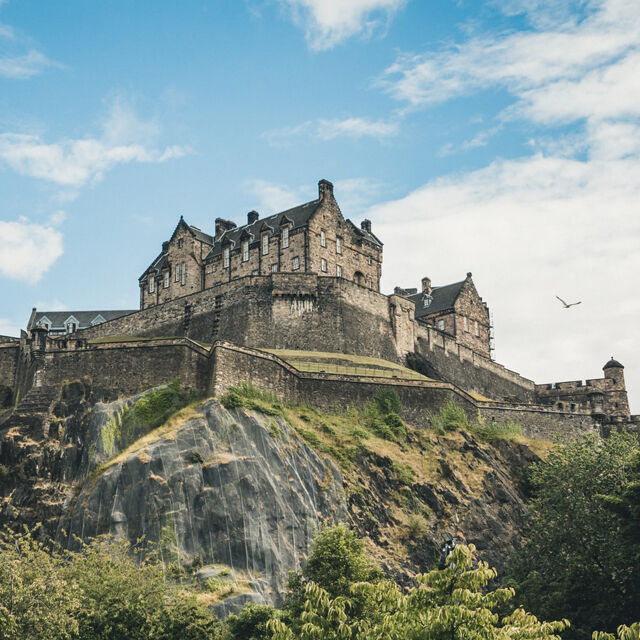 Photo Opportunities
According to our research, Edinburgh ranked as one of the most photogenic locations in the UK, with Arthur's Seat ranking within the top 25 most photogenic places in Britain.
Arthur's Seat is one of four hill forts that are around 2,000 years old. Located within Holyrood Park, it offers rich cultural heritage, walks, wildlife, volcanic geology and incredible views of the city – perfect for capturing those landscape shots.
When in Edinburgh, you must visit Edinburgh Castle. Edinburgh Castle was voted as one of Britain's top 10 landmarks and is worthy of a whole day to enjoy. Explore the grounds, take a guided tour, dare to step in the dungeons or just take in the extraordinary views. Once you've tired yourself out, you can even grab a bite to eat in The Tea Rooms!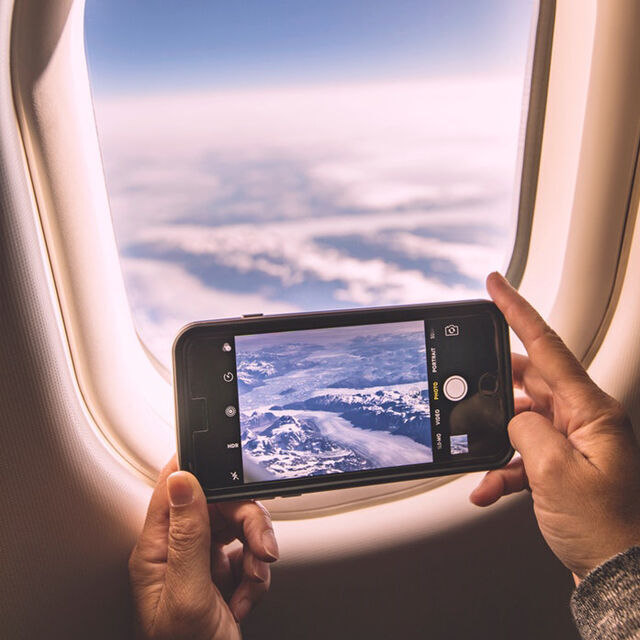 Travel Information
When travelling to Edinburgh, there are numerous options depending on what's easiest for your staycation party. Edinburgh has two major railway stations, an airport accommodating for both UK and international flights and an accessible road network.
The Caledonian Sleeper is a popular overnight service between Edinburgh and London that allows you to sleep as you travel. Perfect for those who aren't keen flyers or if travelling by road is a bit too much for your little one(s), it even caters for children from the age of five. Wake up refreshed and ready to see the sights of Scotland!
Our Best of Britain Competition Winners
We asked you to send us your favourite staycation snaps to celebrate the Best of Britain… and we were blown away by both the quality and quantity of your entries. Congratulations to Karen Parker, Nicola Nash and Dyfed Wyn Roberts who won a staycation of their choice for the winning entries below. Remember to create a CEWE PHOTOBOOK full of your staycation snaps and share it with us!