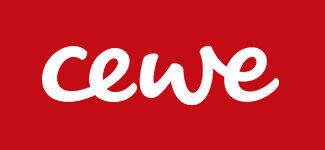 Photo Prints
High-quality photo prints with brilliant colour vibrancy and depth
Pick and choose your favourite photos, designs and layouts, choose the size that you'd like your photo print and we'll take care of the rest!
Order online
Award winning print quality
Vibrant colours and sharp definition
Order Photos Online Today
Aspect ratio:
Variable width: your photo is printed to retain its original aspect ratio. Prints can therefore be of different lengths.
Fixed width: your photo is trimmed to a 2:3 ratio, perfect for standard picture frames. If your photo has a different aspect ratio it will be cropped to fit - indicated by the marked area.
Formats:
Fixed width: 5 x 3.5 inches • 6 x 4 inches • 6.5 x 4.5 inches • 7 x 5 inches
Varible width: 3.5 inch length • 4 inch length • 4.5 inch length • 5 inch length
Paper types:
Standard photographic paper
Premium Gloss photographic paper from FUJIFILM (FSC® Certified)
Premium Matte photographic paper from FUJIFILM (FSC® Certified)
Design options:
White, black or coloured borders
Automatic image optimisation
All about our paper qualities
Choose between our two premium paper types for the perfect print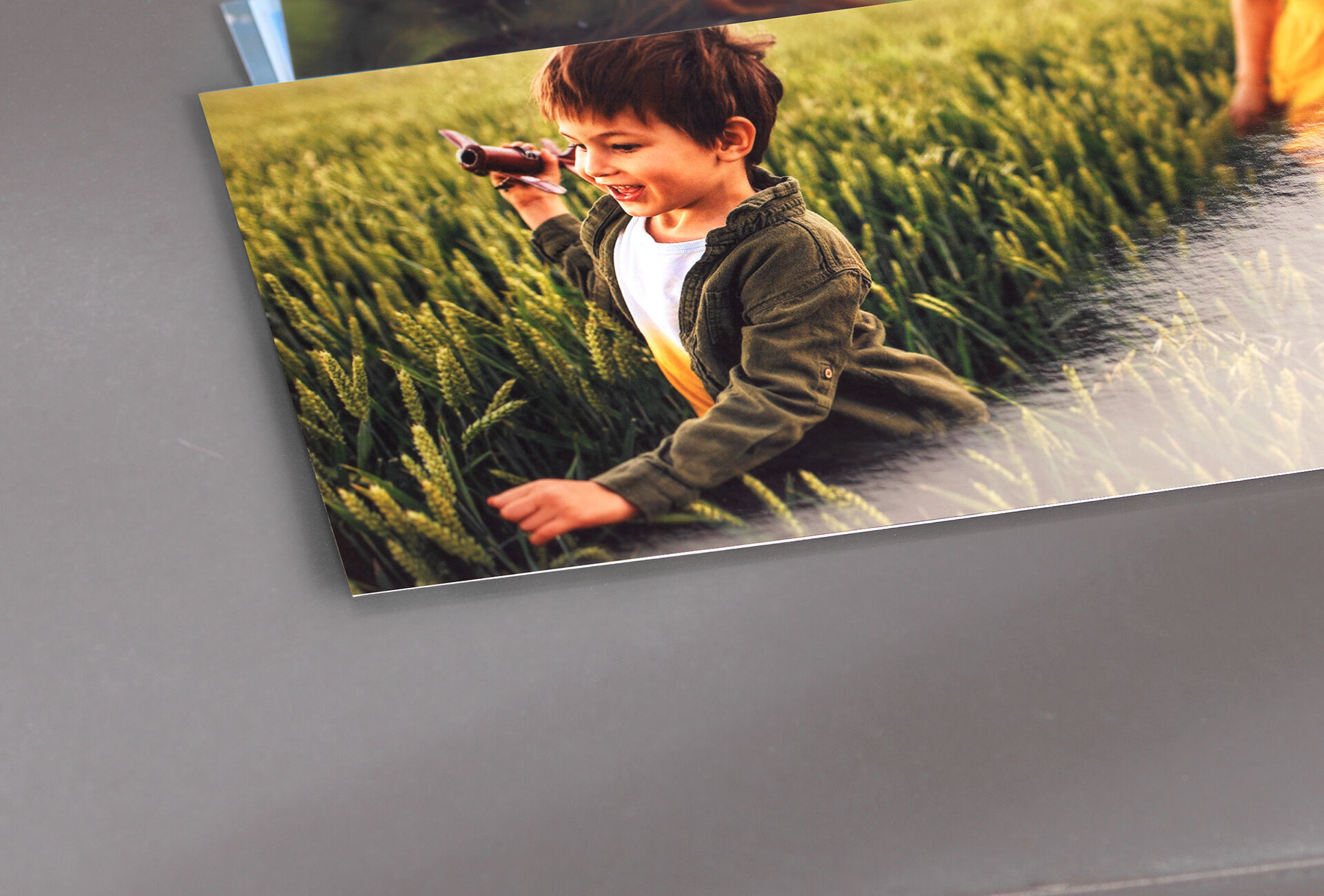 Premium Gloss Paper
Opt to print your own photos on professional-quality premium gloss paper! It features long-term light resistance and allows you to render each and every colour in captivating detail. At a thickness of 230-240gsm, it is also highly durable.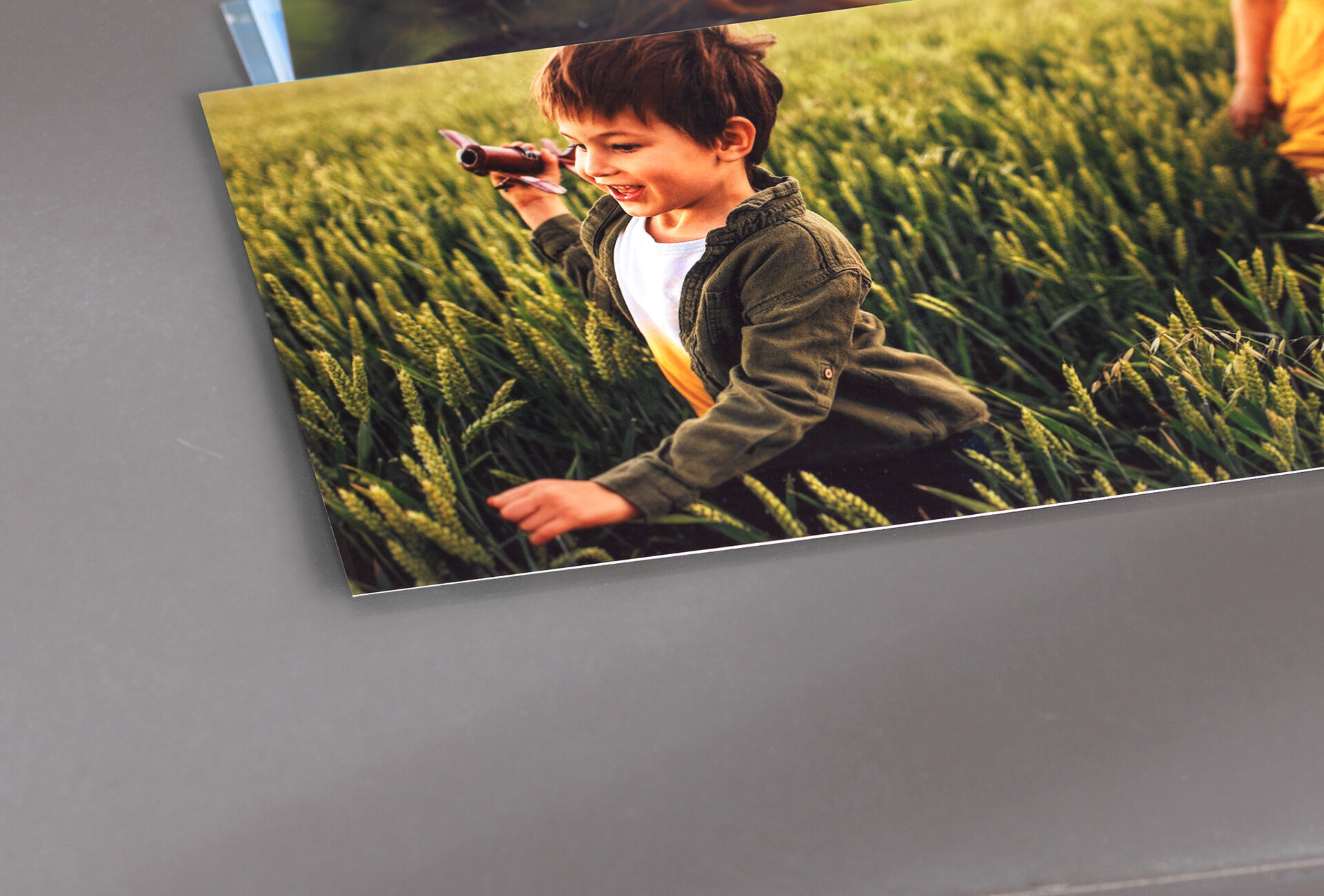 Premium Matte Prints
Our premium matte photo paper boasts a deep, reflection-free surface that offers rich colour contrasts and a luxuriously velvety feel. Order premium matte prints online for a crisp, high-resolution finish.
Available print sizes
Select from our range of classic print sizes.
Are you looking for photo enlargements?
Choose your preferred aspect ratio
Learn more about the difference between Variable and Fixed Width formats.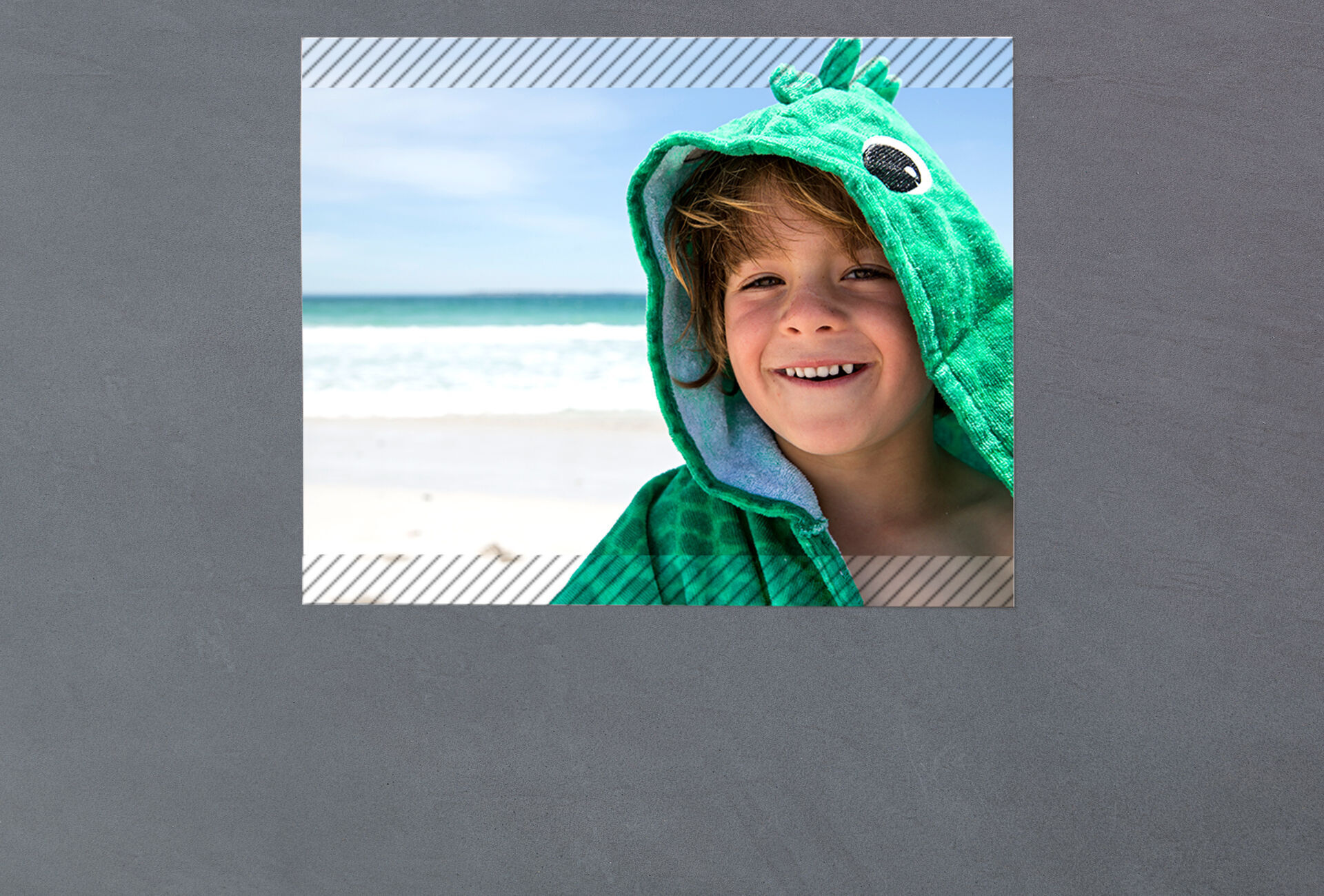 Fixed width
With a classic 2:3 aspect ratio in a fixed width, our Fixed Width photo prints are perfect for picture frames. Our online editor will conveniently show you the area where the photo will be cropped, if required.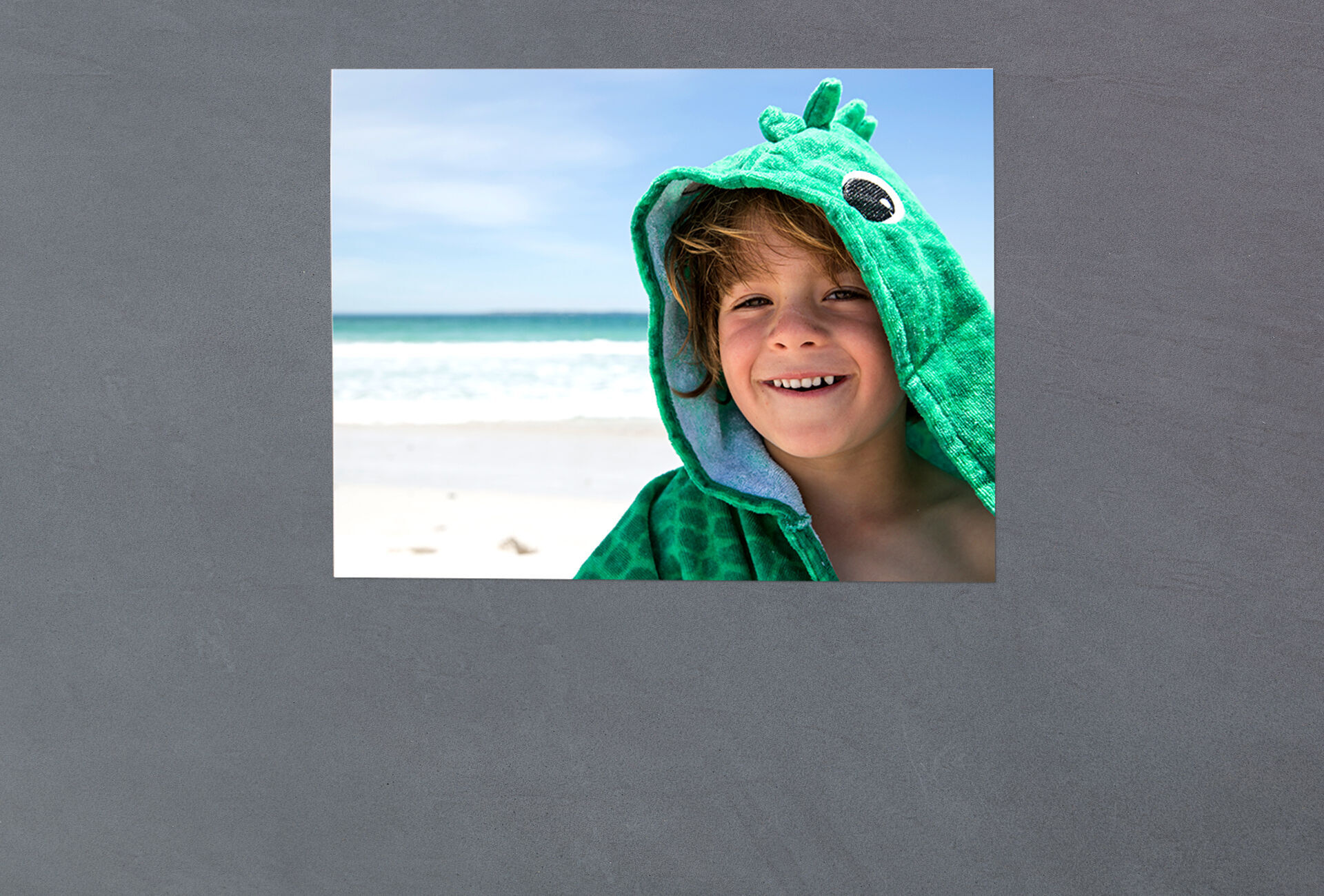 Variable width
Our variable width prints keep to the original proportions of your photo, with no cropping.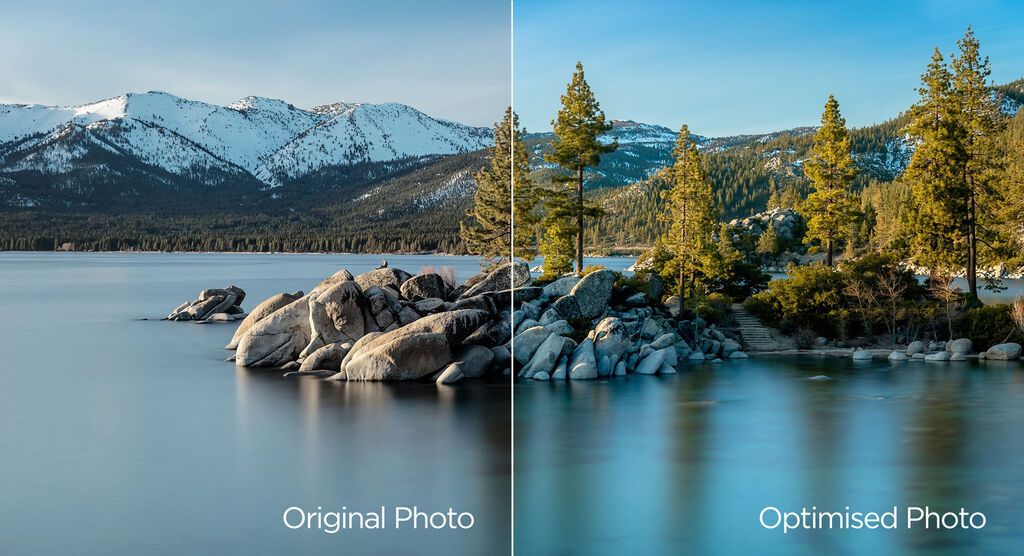 Automatic Image Optimisation
Get the best online photo printing experience with our automatic image optimisation service. This default setting analyses all the images and corrects them if required to achieve ideal results. The contrast and saturation of the colours are improved, and any exposure errors or colour faults are mitigated. Dark sections of images can be brightened to show significantly more detail.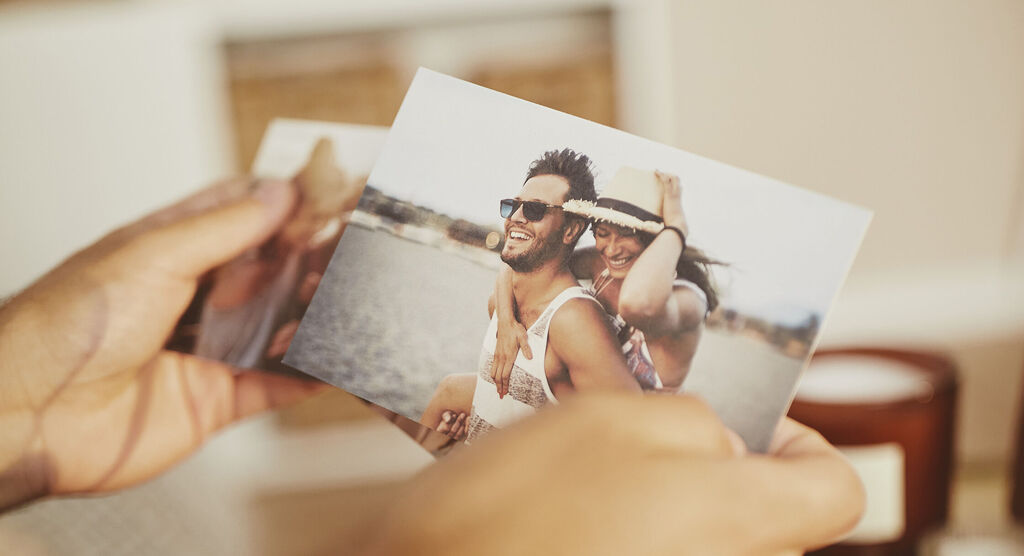 Set your pictures free from your camera or phone
Printing your photos needn't be a thing of the past.
Simply order your prints online and we'll take care of the rest. They'll be professionally printed on UV resistant photographic paper to ensure the best definition and colour vibrancy, without the worry that they will fade over time.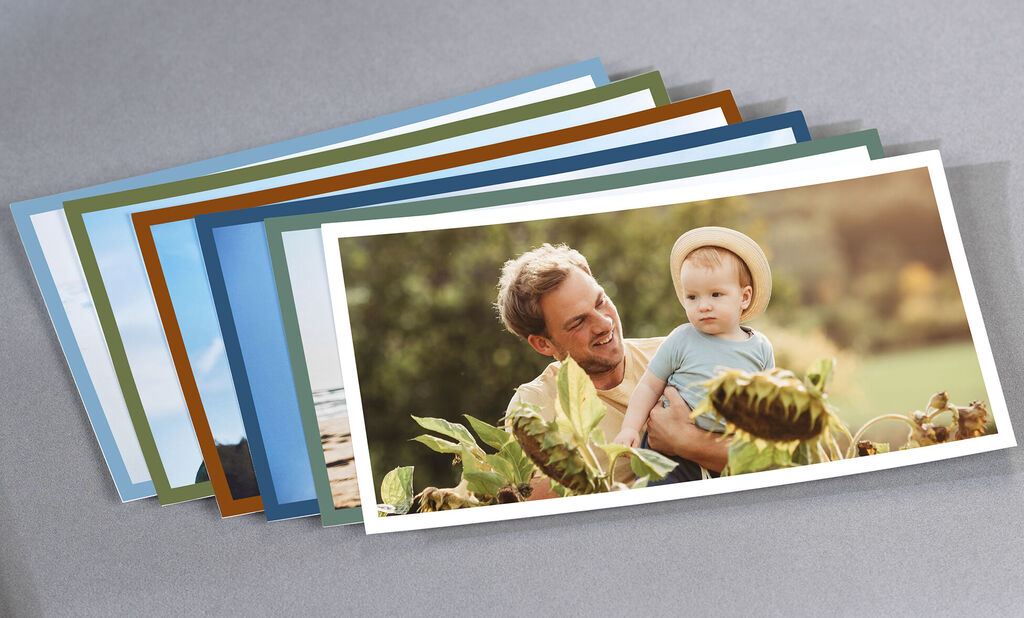 Bordered Photo Prints
Why not add a border to your prints? With a wide range of colours to choose from this finish is a favourite amongst photographers and gives a professional feel to your final images.
Order your prints online and we'll do the rest. They'll be professionally printed to ensure the best definition and colour vibrancy, giving you quality prints that last a lifetime.
Adding a 5mm white border to your prints is a great way of complimenting the photo itself. The contrast of the border and the image really makes the photo standout.
Bordered photo prints are also perfect for photo albums.
Frequently Asked Questions
Choose from our high-quality standard prints, available in 6x4" and 7x5", or our premium prints in gloss or true matte, available in 5x3.5", 6x4", 6.7" or 7x5". Our premium prints are smear resistant with our gloss prints having a smooth surface and our true matte prints having a reflection free, textured surface.
Yes, borders can be added to our standard prints whether you choose a classic or variable format. A wide range of colours are available, and borders are added at no extra charge.
Our premium matte prints are perfect for artistic photos, black and white shots, or dramatic landscape photography.
There are many different free photo editing tools available, such as Canva and Pixlr, but we recommend using our free CEWE Photoshow software, which allows you to edit your photos in a number of ways, including straightening, cropping or adjusting the colours. Before you order your photos online with CEWE, you're also able to use our simple auto image enhancement feature, which will make sure every print is perfect quality.