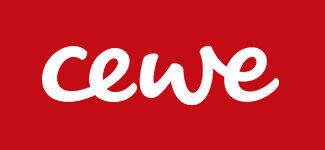 Photo Advent Calendar
Create an advent calendar that's totally unique. With a favourite memory behind each door, this is photo Advent calendar is a thoughtful gift for someone who deserves something to smile about every day of December.
Your favourite photos behind 24 doors
Relive the year's best moments
Makes an ideal gift
Available in Portrait and Landscape orientation
Sizing:
35.6 x 24.6 cm (A4)
41.8 x 29.3 cm (A3)
Material:
300 gsm FSC® certified Multicard 2S paper in a digital print (A4)
300 gsm FSC® certified Multicard 2S paper in a digital print (A3)
Size of the doors:
48 x 38 mm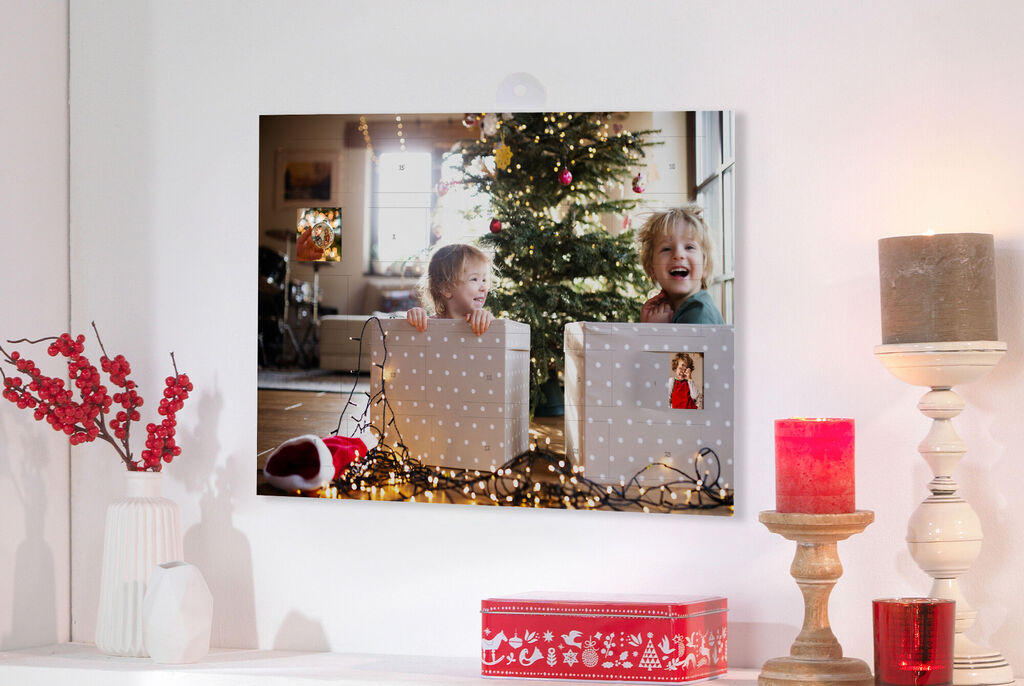 Get ready for Christmas
Count down to the big day with our photo Advent calendar. Choose a favourite photo to add to the front, and 24 more to reveal throughout the rest of the season.
When opened, each window will unveil one of your photos. From your summer holiday to a special birthday, these Advent calendars are ideal if you want to look back over your best moments as the year comes to an end. The perfect way to countdown to Christmas whilst remembering some of your favourite occasions from the past year, and an ideal gift for someone special. Now available in A3 too, so you can enjoy your best snapshot on an even bigger scale and each size is available in both Landscape and Portrait orientations so you can choose the perfect picture to see you through the festive build up.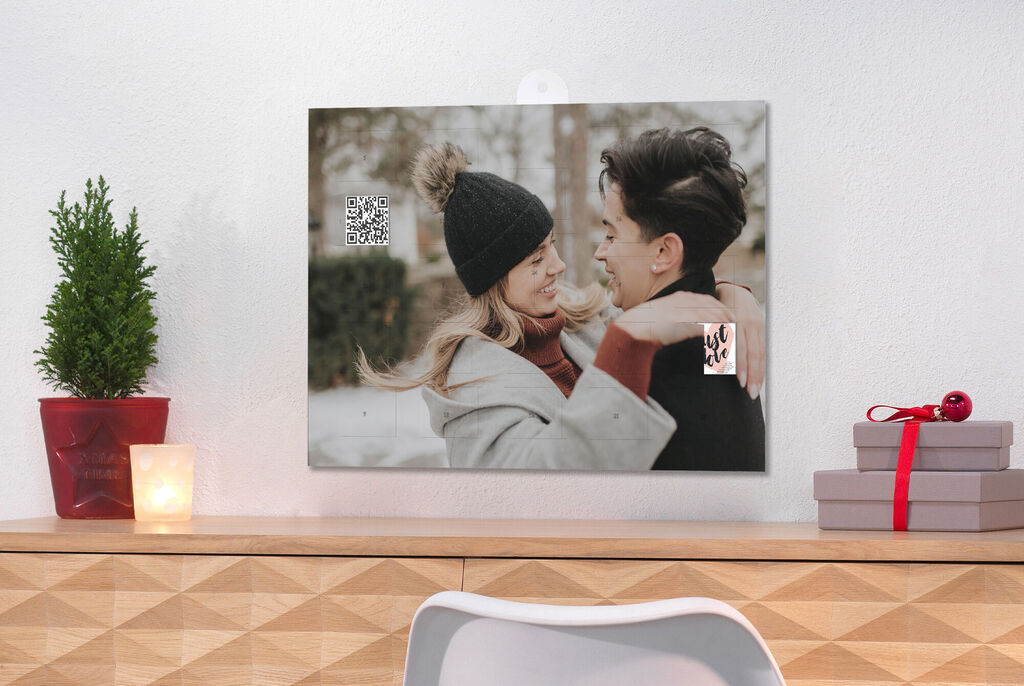 Ideas for your personalised Photo Advent Calendar
It's easy to create a Photo Advent Calendar and we have a range of templates and designs to choose from in our free Creator Software. You don't have to simply use photos behind every door, you could add personal messages with text to make it extra special, add reminders to call family and friends, riddles that point to a big surprise on the final day or even a unique QR code that allows you to to share your momentous videos.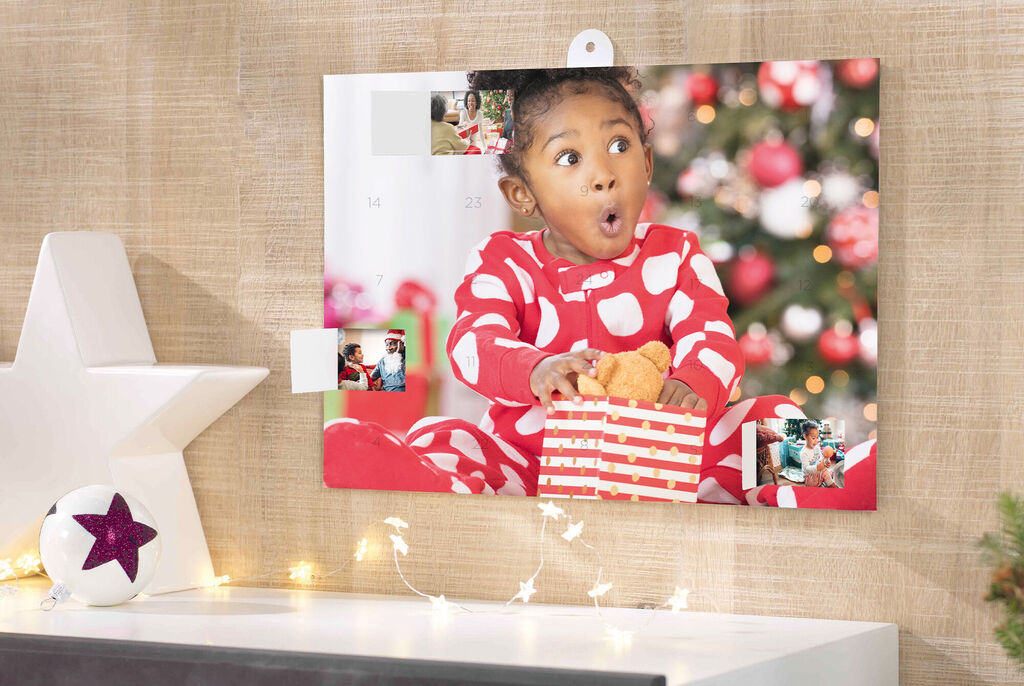 Design your own photo calendar
The best thing about an advent calendar is the little surprise that you receive every day. However, it doesn't always have to be chocolate! An advent calendar with photos, with a different photo hidden behind each door, is a very personal gift that can be customised specifically for them. With the dimensions of 35x24cm, it will find its place on every wall and, thanks to the scratch-resistant and wipeable surface, your photo calendar remains a staple festive decoration throughout the advent season.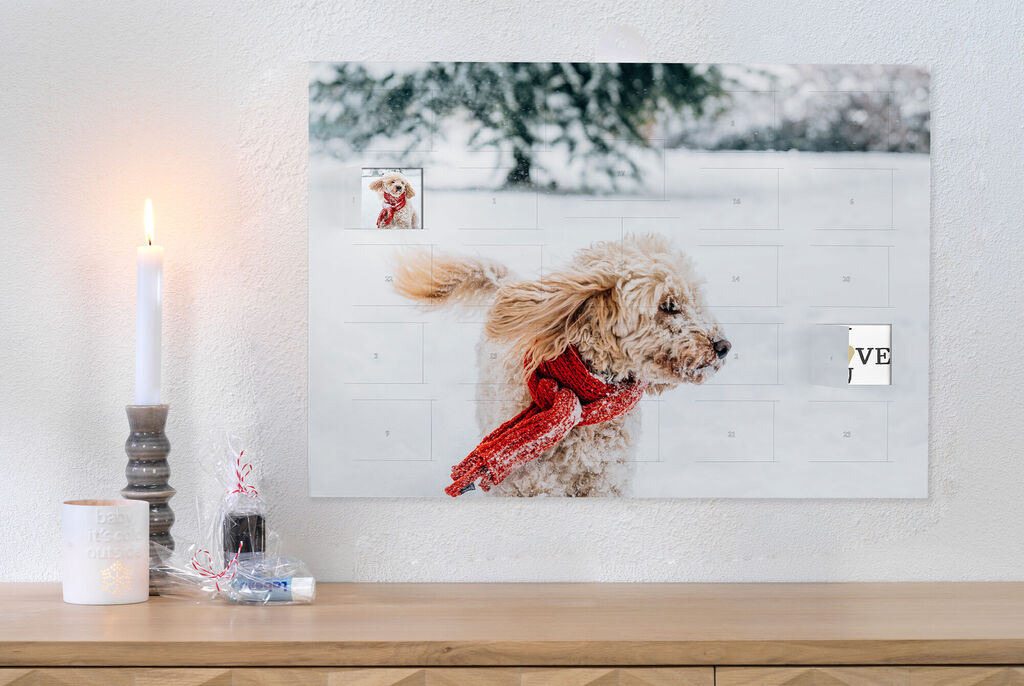 Tips for creating an Advent Calendar with photos
Thanks to the user-friendly, intuitive Boots Photo Creation Software, you can design your photo calendar quickly and easily:
Pick 25 digital photos for the door and the cover of the calendar. We'd suggest putting a few in place to see what works best. Let the pictures behind the door tell a story. Maybe it's a holiday or your friendship over a number of years? Will you choose to edit all of your photos in black and white or go full colour? Experiment with winter and Christmas templates and motifs, Clipart, frames and filters
High-quality finish
If you're still not sure what photo to select for the cover, think about what photo you think the recipient will enjoy! It doesn't have to be a winter specific, but pictures that get you in the festive mood are always a good idea. Top tip - When choosing the photos behind the doors, make sure that they have a size of 48 x 37 mm and, due to the size, are not too detailed.