Inspiration
Create a 21st century family Christmas Card like the Hothi family
Christmas is all about getting the family together…and looking at our phones, tablets or laptops.
To stand out on people's mantlepieces, the Hothis wanted to capture the reality of 21st century family life in a fun Christmas card.
By getting into the spirit of the season and enjoying some 'bonding time', they created a photo card that will make their loved ones laugh out loud.
In this step-by-step guide, the Hothis share their tips on turning your own Christmas card shoot into a fun festive activity with the kids, so get ready to spread holiday cheer and capture your family's personality and love with a touch of DIY creativity.
Step 1: Set the festive scene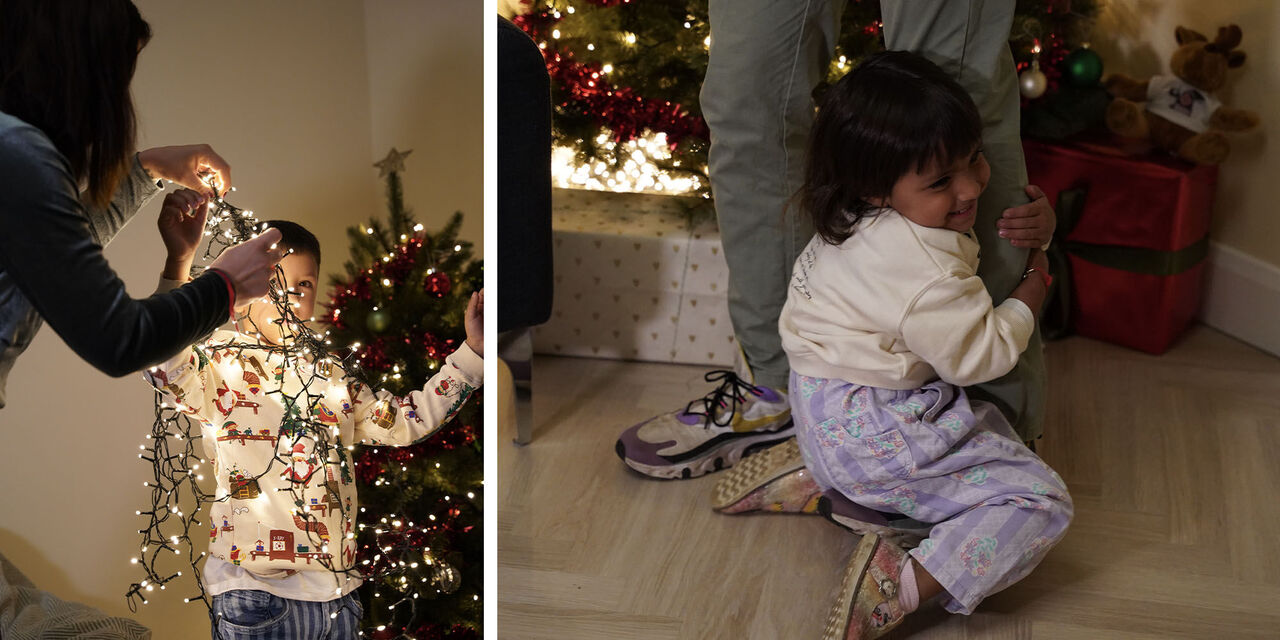 It's time to get in the Christmassy mood!
Take some time to unpack all your decorations and set up the tree. Get the children involved and add at least half a day of quality family time to the clock when decorating the scene. Tinsel, twinkly lights and tales of your family traditions are a must. This is the perfect opportunity to bring your little ones' creativity to life where they can share their festive design skills with their siblings. You can, of course, expect very little rivalry amongst siblings in the decoration stage!
NEXT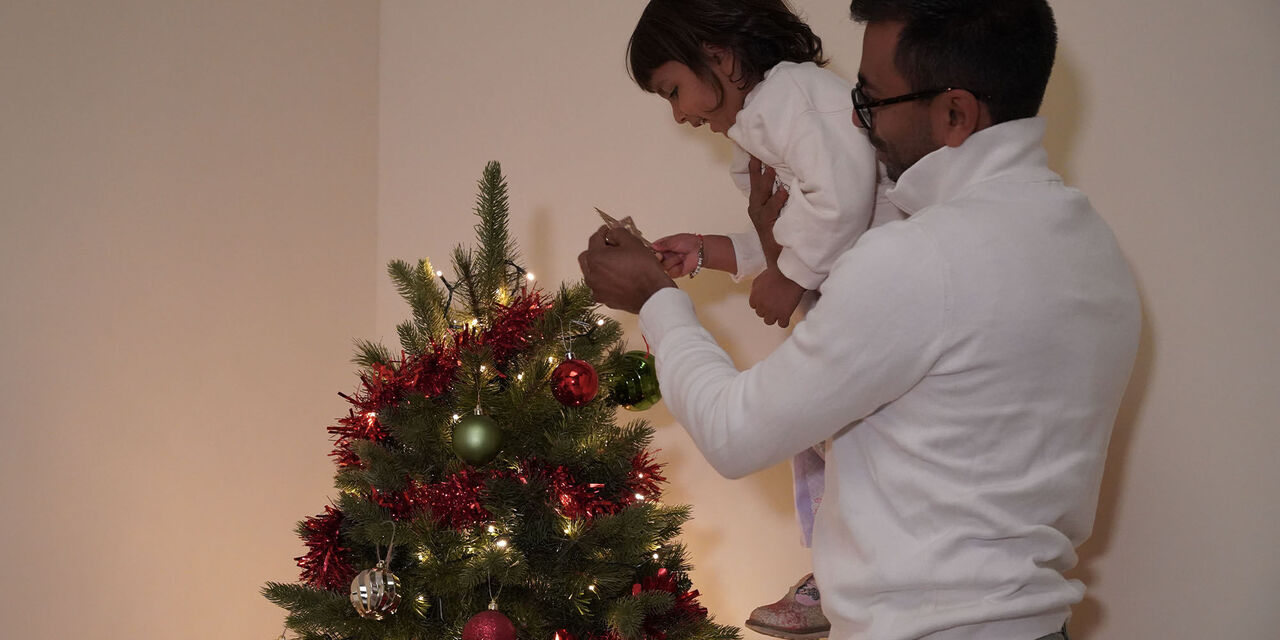 Make sure everyone gets involved
Make sure everyone gets involved in dressing your festive scene. Get your little ones to draw Christmas pictures or pick their favourite decoration to put on the tree. Ensure dad visits the gym before attempting this as he may have to hold up some light weights for quite some time before the star is set to the top of the tree.
NEXT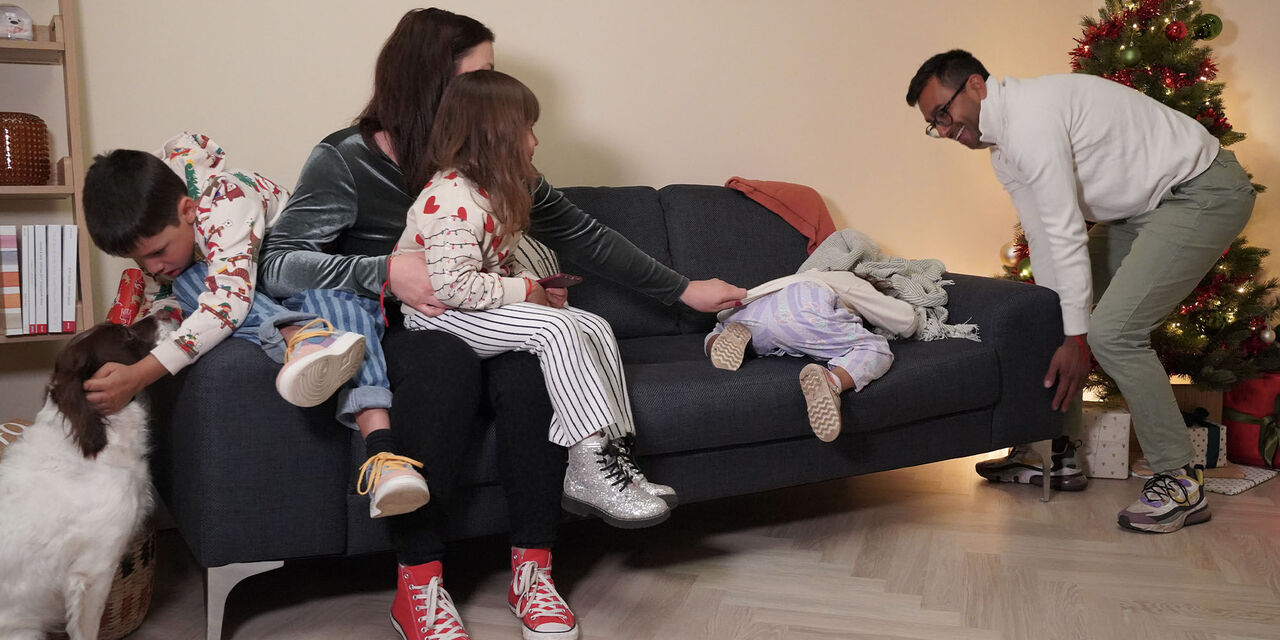 Use a good source of light
Having a good light source in your scene is key to a quality picture. As the Hothi family were taking their picture on the sofa, they moved it towards the window to get lots of natural light.
Top tip for dad: Moving the sofa into the perfect position is easier when the family is not already sitting on it...

Step 2: Dress up and grab your props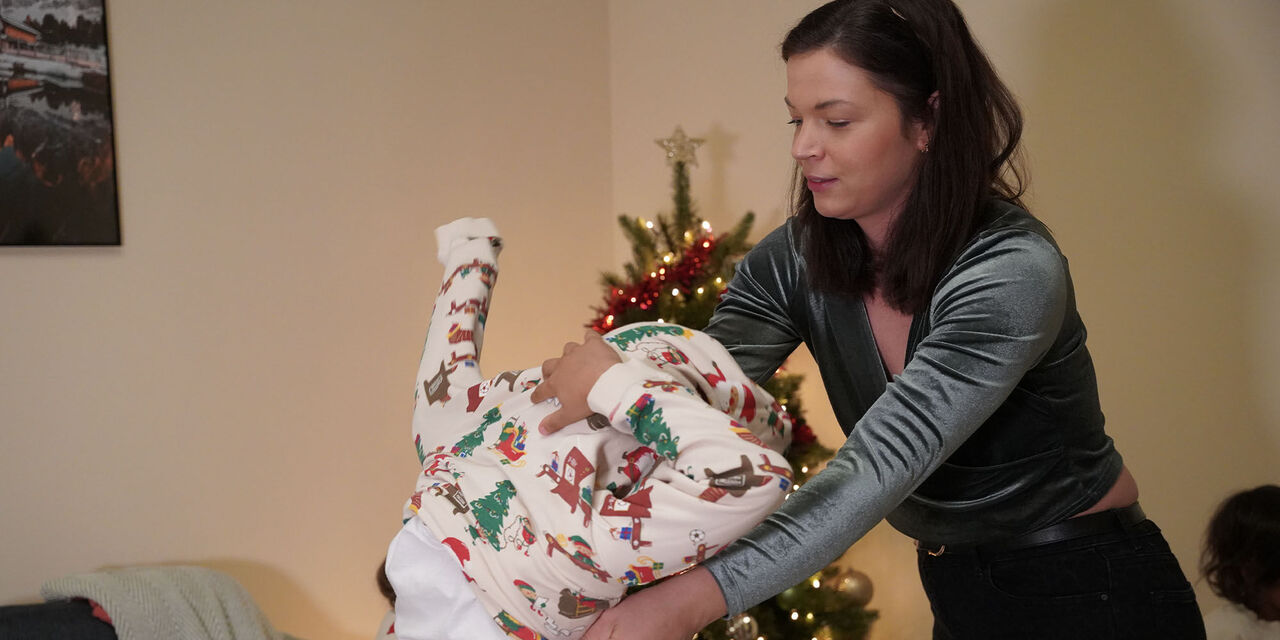 Put on your own Christmassy looks
Now you've created a beautiful festive scene, it's time to put on your own Christmassy looks. Get the children dressed up in their favourite jumpers.
In this scenario, starting with the teenager (good luck) and getting him into the matching set of family jumpers was key to convincing his siblings to follow suit. You know who the influencer is in your family…start with that one! Put on your best Christmas day outfits or just add a red nose and antlers – whatever reflects your family's personality best!
NEXT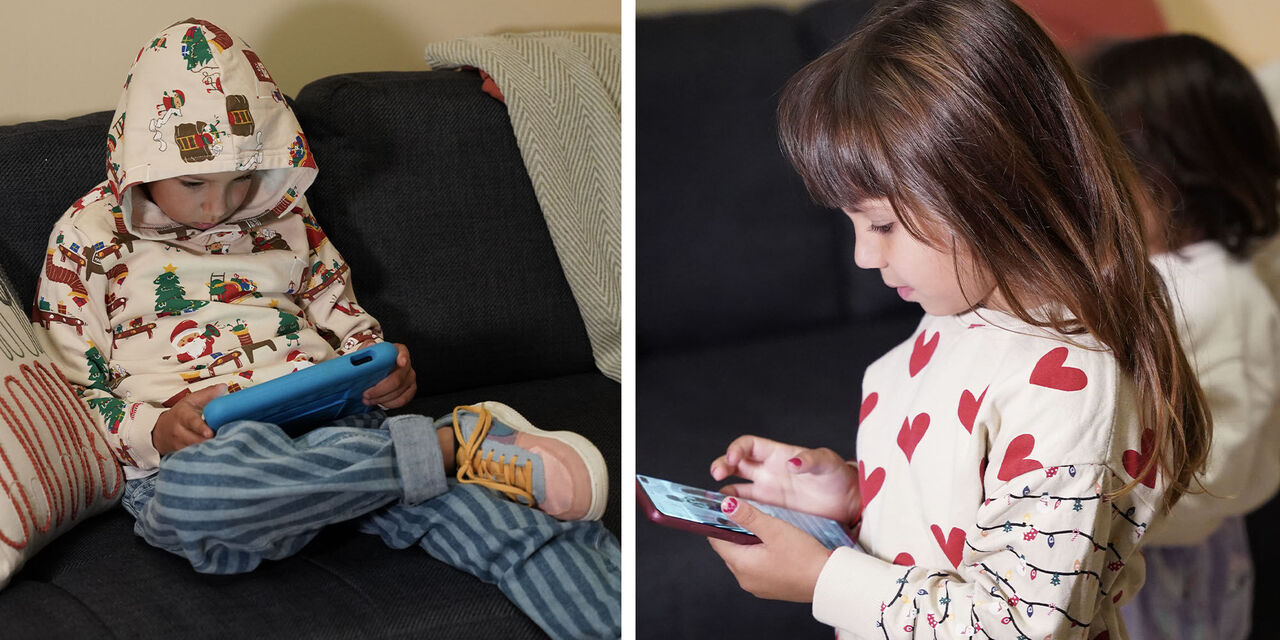 It's time to grab your props
Once you're in your Christmas costumes, it's time to grab your props. The Hothis wanted to make fun of the modern 'family' Christmas in their photo, so they each got their phones, tablets and other devices ready.
You could choose an item that is meaningful to you or an object that's typically festive like a toy reindeer or snow globe.
NEXT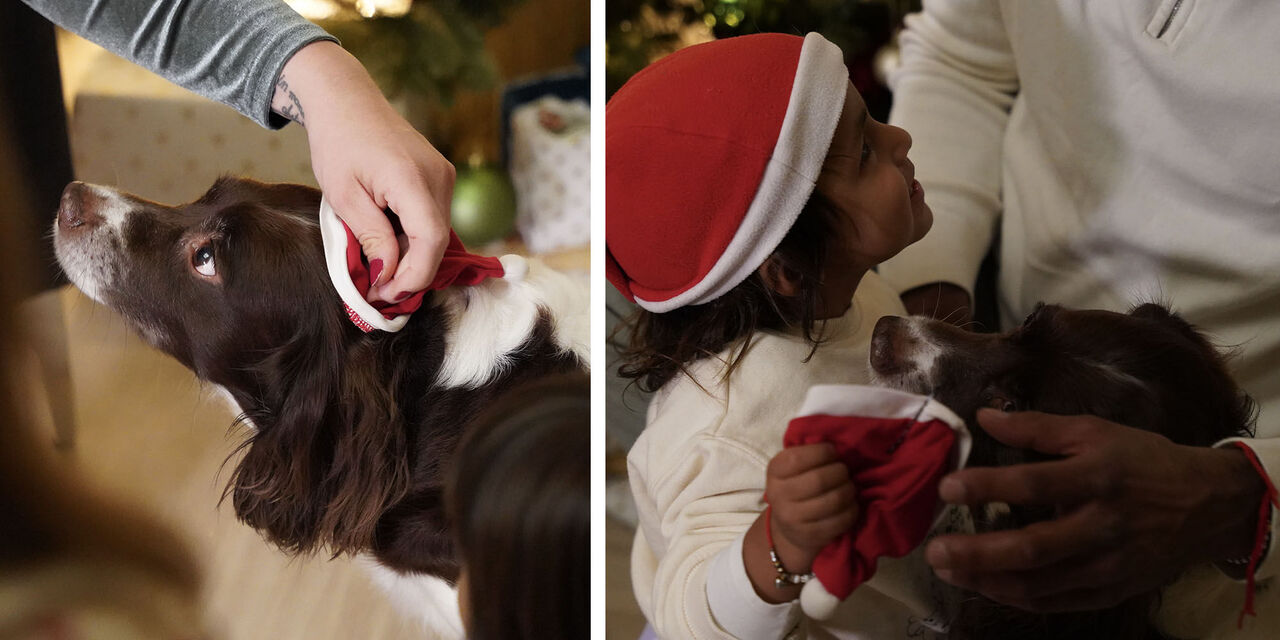 Don't forget the furry members of the family!
They'll love getting in the festive spirit as much as your kids will, so make sure they've got their own outfit and props ready for the photo. You can always rely on a furry friend to be Santa's little helper.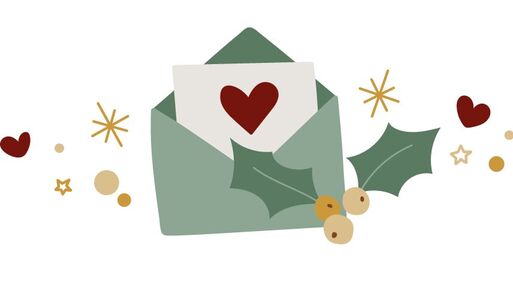 Step 3: Bring the family together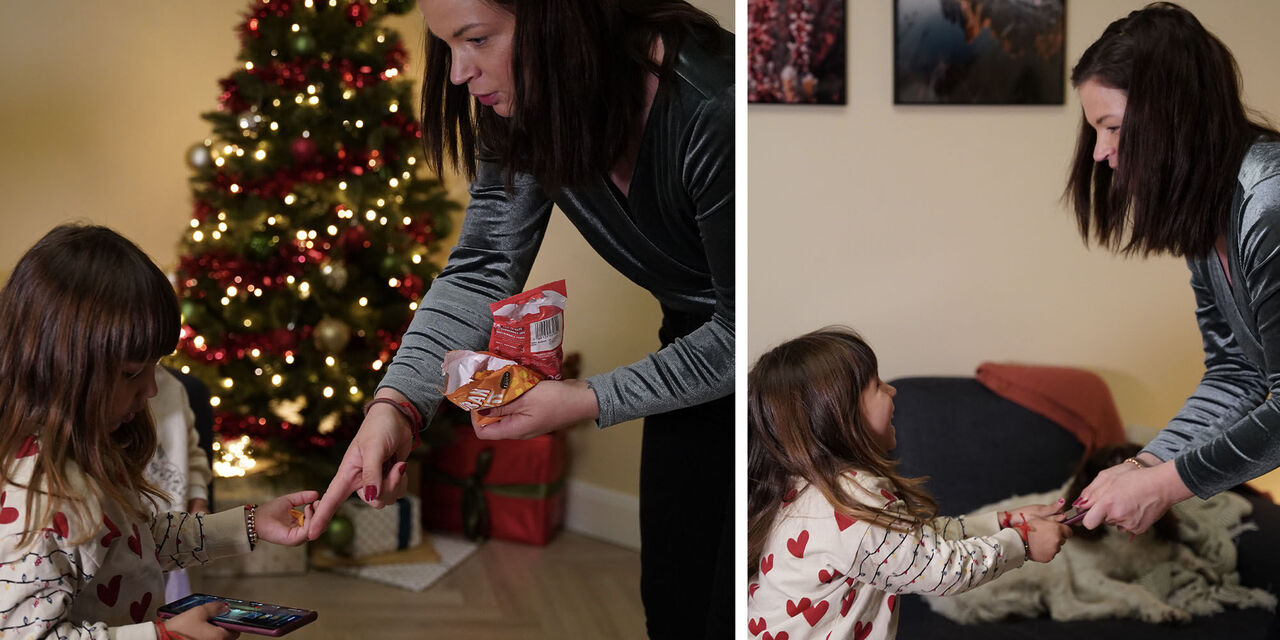 What's Christmas without a few treats?
Get into the festive spirit early and make sure your little ones are smiling by sharing a few of their favourite fruits or healthy sweets. "Adding healthy treats to this project plan is a must" says our mum of three.
When you run out of numbers to count the children down into being camera-ready, treats come in handy to motivate everyone back into submission for that perfect photo moment.
NEXT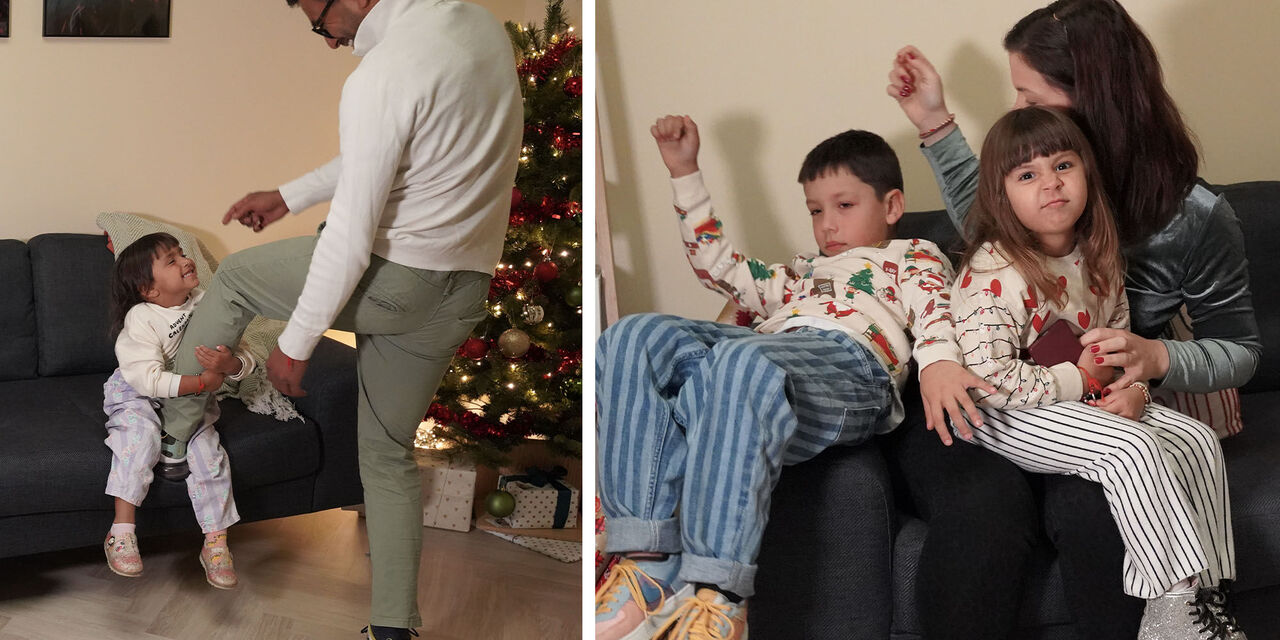 Position yourselves in front of the camera
Now it's time to gather everyone together in front of the camera. Choose a spot that feels natural and comfortable so everyone is relaxed and smiling when the shutter goes. Between mum and dad, make sure you have enough arms, hands and legs to gather all the kids to one spot. This might feel like it has turned into a team sports activity but keep going, you are almost there!
NEXT
Cuddles, kisses and tickles all round
Hold on tight to everyone, but don't forget to have some fun! It is Christmas after all.
There is nothing more heart-warming than the laughter of your children during the festive season. The joy of Christmas comes to life through the eyes of our children - they are the ones who truly light up the room with Christmas spirit.
Keep your phone or camera stable using a tripod or other object. If you've got a ring light or lamp, position it so no one's in shadow.
When it's time to take the shot, set a timer and put your camera into burst mode. This will help you capture the perfect picture. Press your shutter and get in position.
Step 5: Say Merry Christmas!
Or maybe not! Whether you want to be smiling, singing or set up for a joke in your picture, it's time to strike your festive pose.
Ho ho ho, here's the perfect photo for your family Christmas card...